Gov. Brown Brings on Tribal Affairs Advisor; Secretary Salazar Speaks on Klamath Dam Removal
Hank Sims / Monday, Sept. 19, 2011 @ 5:08 p.m. / What Did We Learn Today?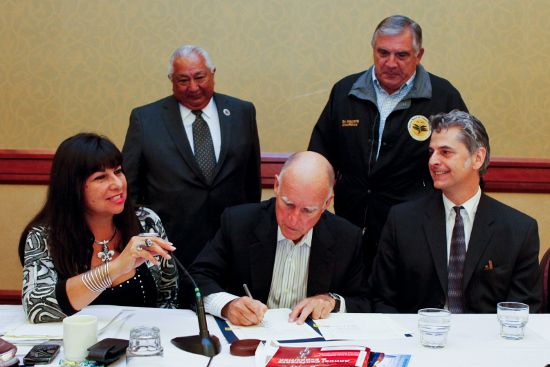 Big doin's in Indian Country. First up: Jerry Brown, who today attended a Sacramento meeting of the Tribal Alliance of Sovereign Indian Nations, signed an executive order to establish the position of "Tribal Advisor" to the governor's office.
The order says that whoever ends of occupying the position will do three things:
• Serve as a direct link between the Tribes and the Governor of the State of California.
• Facilitate communication and consultations between the Tribes, the Office of the Governor, state agencies, and agency tribal liaisons.
• Review state legislation and regulations affecting Tribes and make recommendations on these proposals.
Which seems like a pretty great thing all the way around. Dan Bacher notes that the mandate applies to all Native American nations in the state, not just those who belong to tribes recognized as such by the federal government.\
###
Meanwhile, in a speech at San Francisco's Commonwealth Club, Interior Secretary Ken Salazar stumped for compromise and consensus over three disputed waterways in California, including the Klamath River. (For some background on the crisis on the Klamath River, the settlement agreement forged by former disputants over the disposition of that water and the controversy over that settlement, click on over here.)
In his speech, Salazar said that dam removal is now expected to cost no more than $290 million – far less than the $450 million maximum originally envisaged. It would also add 4,600 jobs to the regional economy, he said, and boost the amount of the current Klamath chinook salmon harvest by 80 percent.
Download a copy of Salazar's full remarks here.
---