(SOLD) 177 Unopened Movies (and a Joanne Rand CD) - $99!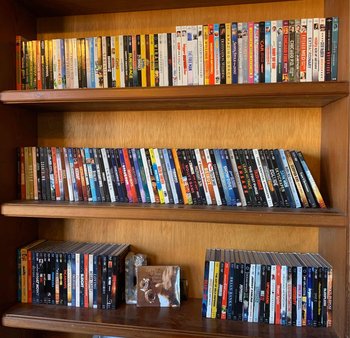 (UPDATE: THIS ITEM HAS BEEN SOLD)

SO MANY MOOVIES! Do you appreciate fine cinema but also sometimes bad cinema? Well look at this treasure trove of physical media! You love it! You want it! 177 films — actually some of them are entire seasons of shows of varying quality — can be yours for only $99!

Don't sleep on this deal, Humboldt! (You haul.) ROLL CALL.

Green Book
Hustlers
Boy Erased
Schindler's List: 25th Anniversary Edition
The Sinner, Season One
Downton Abbey: The Motion Picture
Darkest Hour
Kevin Hart: What Now?
Notorious
Steve McQueen, American Icon
Honey: Rise Up and Dance
Extraordinary
Chicago Med, Season 2
Chicago Justice, Season 1
Chicago PD, Season 4
Chicago Fire, Season 5
New Amsterdam, Season 1
Grand Daddy Day Care (with DANNY TREJO)
Benchwarmers 2: Breaking Balls
The Car: Road to Revenge
Shopkins: Chef Club
Shopkins: World Vacation
Shooter: Season One
Champion
Santa Stole Our Dog
Amazing Grace
Destination Wedding
Veggie Tales: The Best Christmas Gift
Undercover Brother 2
Killing Hasselhoff
An Interview With God
Channel Zero Candle Cove: Season One
The Free Man
Bigger Fatter Liar
Cop and a Half: New Recruit
The Secret Life of Pets 2
Ma
Poms
The Dog's Journey
Mirai
UglyDolls
After
Little
21 Bridges
Captive State
Run the Race
Happy Death Day 2U
The Upside
Greta
How to Train Your Dragon: The Hidden World
Backdraft 2
Serenity
M*F*K*Z
Split
Welcome to Marwen
Second Act
Nightflyers: Season One
Mortal Engines
A Private War
Sing
Despicable Me 3
Dr. Seuss's The Grinch
Night School
Assassination Nation
The House With a Clock in its Walls
The Nut Job 2: Nutty By Nature
Barbie, Video Game Hero
Monster High: Electrified
Aliens Ate My Homework
Operation Finale
The Happytime Murders
Pope Francis: A Man of his Word
The Hustle
Mary, Queen of Scots
The Addams Family
Countdown
Queen and Slim
Mune: Guardian of the Moon
The Book of Henry
Cult of Chucky
Justice
Girls' Trip
Mariah Carey's All I Want for Christmas is You
Kidnap
Birth of the Dragon
Brad's Status
The Stolen
The Defiant Ones
The Foreigner
The Snowman
Thank You For Your Service
Breaking In
Marshall
The Beach Bum
Good Boys
Abomindable
The Man Who Invented Christmas
Wonder Wheel
The Breadwinner
Pitch Perfect 3
Den of Thieves
50 Shades Freed
Mamma Mia! The Movie: 10th Anniversary Edition
Tremors: A Cold Day in Hell
Pacific Rim: Uprising
Mary and the Witch's Flower
Molly's Game
The Strangers: Prey at Night
Midnight Sun
7 Days in Entebbe
Beirut
Bloom House's Truth or Dare
Disobedience
On Chesil Beach
Show Dogs
Atomic Blonde
Adrift
Unsane
Leave No Trace
The First Purge: A Nation Reborn
Tales From the Hood 2
Three Identical Strangers
Death Race: Beyond Anarchy
Collide
Skyscraper
Unfriended: Dark Web
Mamma Mia!: Here We Go Again
Scorpion King: Book of Souls
Last Christmans
Papillon (2018)
Barbie and Her Sisters in a Puppy Chase
The Marx Brothers Silver Screen Collection
Almost Christmas
Before I Fall
The Take
The Bye-Bye Man
Desierto
Frank and Lola
Priceless
Bleed for This
Incarnate
A Monster Calls
Dragon Heart: Battle for the Heart Fire
The Promise
Slight
The Ottoman Lieutenant
Megan Levy
Loving
Low Riders
Tom Cruise's The Mummy
The Purge Season One
Doom: Anihilation
The Dead Don't Die
Inside Man: Most Wanted
The Art of Self-Defense
Jarhead: Law of Return
Dreamworks' Ultimate Holiday Collection
Brian Banks
Scarface: Gold Edition
Peppermint
Ocean Waves
Johnny English Strikes Again
Unbroken: Path to Redemption
Mile 22
Upgrade
Thoroughbreds
Home Again
Chronically Metropolitan
Dead Again in Tombstone (with DANNY TREJO)
Security
Bring it On: Worldwide #CheerSmack
My Life as a Zucchini
Spark: A Space Tail
The Space Between Us
The Resurrection of Gavin Stone
Sleepless
A Dog's Purpose

… and a Joanne Rand CD, "Roses in the Snow and Drought."

Christmas is right around the corner! Don't delay!
---
Posted: Feb. 26, 2020