WOW! Architectural Model of Never-Realized Eureka Waterfront Development — $2000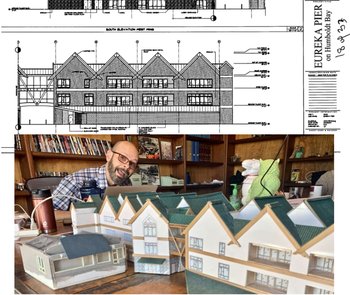 Could we interest you in a piece of Eureka history? How about a piece of not history?
Behold this mixed-media model of the Eureka Pier Project that LoCO rescued from a dumpster a few months back! Pretty neat, right? First proposed back in 1999, the three-story, mixed-use development was designed by the John Ash Group and would have offered tenants gorgeous views of Humboldt Bay from the shoreline between D and F streets in Eureka. Did we mention retail commercial and residential space totaling 85,390 square feet? Oh yeah, baby.
Why did this project never reach fruition? Dunno! We already told you the planned square footage, bucko, so maybe you could google up additional info about this thing yourself if you need it. You may be on LoCO, but this is not an article. This is a classyfied!
Don't miss this opportunity to have something weird in your house. Buy! Buy! Buy!
Contact: (707) 633-9179
---
Posted: Feb. 26, 2020