Into the Forest
Kym Kemp / Sunday, March 24, 2013 @ 7:52 a.m. / Featured Image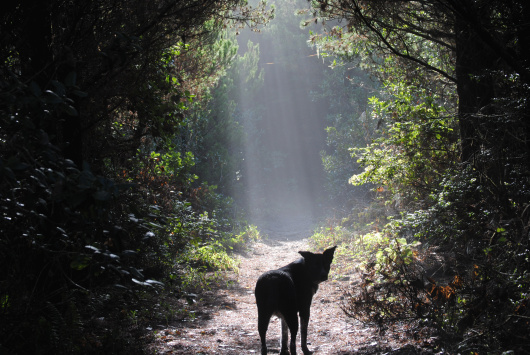 Photographer Joel Gibson grew up in Portland, Oregon area and started taking photos shortly after moving to Manila in 2008. "I first used a cheap point and shoot I had bought for a vacation and I took photos primarily to show my family back home the majestic beauty of the Manila dunes. I kept taking pictures and I now use a Nikon D3000 for pretty much everything that I do," he explains.
Gibson is the photo editor and a writer for the Savage Henry Independent Times, a humor magazine based out of Arcata. He also does stand up comedy performances and podcasts for Savage Henry.
Gibson, who now lives in Eureka with his wife, dog, and two cats, took this photo of of the sun shining through the trees near the forest not far from his old home in Manila. "It was morning, about 10, and the sun was cutting through the trees in the trail ahead of us as I had never seen it do before or since. As I got the camera out Zeno got in the picture and at first I was not amused as he was in the way of the shot, but I took a couple with him in it anyway."
More of Gibson's work can be seen here.
---