A Secret Spot on Big Lagoon
Kym Kemp / Wednesday, Sept. 4, 2013 @ 6:45 a.m. / Featured Image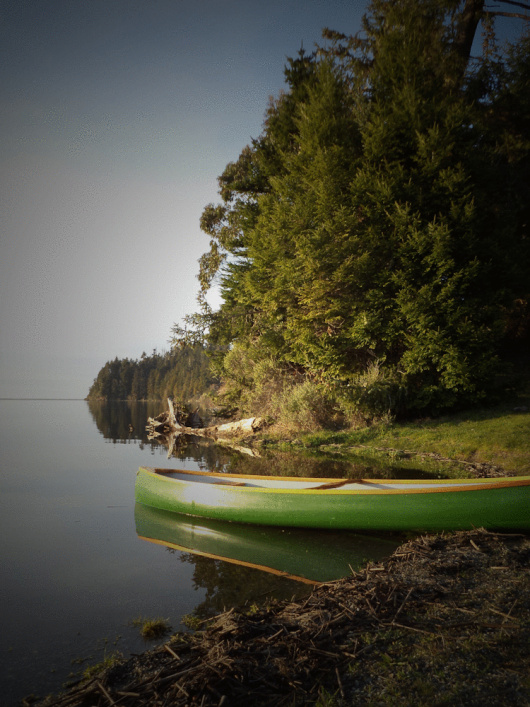 Peter Westfall said that he and some friends had been exploring with a canoe hand built by a friend's father when he took the above shot. "We've been taking it around local waterways, paddling out and having some pretty moments," he explained. "Sometimes, [it gets] pretty scary. One of our first expeditions found us in some pretty good rollers and we both got real quiet, but that don't sit well with this Hippy. So, I just started singing, "In the jungle, the mighty jungle, the lion sleeps tonight…" My bro chimed right in, picking up the harmony and all. By the time we beached, we were giggling too hard to worry about the wave action or getting wet. So if you hear song from the water, a canoe comes around the corner and makes you giggle; if you know the next verse or the chorus, just sing along, smile, and love where you live as much as I do."
Peter Westfall says that he is "scared to share this secret spot on Big Lagoon." But, he feels so lucky to have seen it, that he decided to share. "It was a 6+ tide," he said as he described the day, "and we paddled right up to a tree branch large enough for [my friend's] doggy to run long… . And then, off the side of the main waterway, were all the pretty little spots." One of those areas is where he snapped the photo.
"The mirror of the woods across the waters is what caught my eye. That and just how… pretty it is where we live!!" he wrote.
–––––––—
If you have taken a photo of a beautiful area of Humboldt (or any photograph of people or wildlife would do also) and would like it featured on LoCO, send a link or a photo to mskymkemp@gmail.com. Include the name of the photographer and a website if it exists. A short bio of the photographer and a description of when and where the photo was taken would also be nice.
Remember, the shots need to have been taken in Humboldt.
---