Somewhere Under the Rainbow…
Kym Kemp / Tuesday, Dec. 16, 2014 @ 5:54 p.m. / Featured Image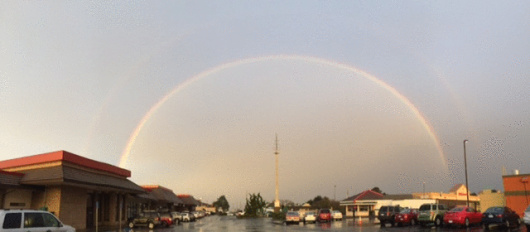 Suddenly about 4:30 this afternoon, our Facebook feed and emails lit up with rainbows. Apparently the Eureka area was blessed with a particularly lovely double ribbon of color arching over the city.
If you've got a rainbow photo you want to share, upload it in the comment section. (See hints on how to do that here. Be sure to refresh after uploading for best results.) Also, please tell us where the photos were taken if possible.
If you have another Humboldt image that doesn't fit the rainbow theme but would still like to share it with everyone, send it to mskymkemp@gmail.com with Featured Photo in the subject line.
---