Hawk on the Wing
Kym Kemp / Saturday, Feb. 15, 2014 @ 9:43 p.m. / Featured Image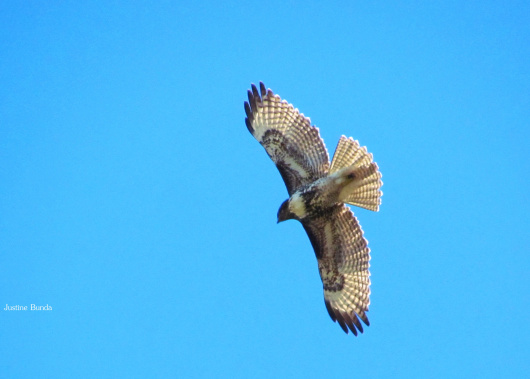 Justine Bunda, who captured the photo of the hawk above, loves photography and her rural lifestyle. She writes that "I take pictures and I'm a homebody." Bunda, a lifelong Humboldt County resident who lives in a remote area said that she lucked into the photo when her mother called her to come look at the raptor as it soared above her land. Bunda, likes to photograph a variety of subjects but mainly focuses her camera on the wildlife and scenery in the rural hills surrounding Humboldt County.
More of Bunda's photos can be seen here.
–––-
If you have a photograph you'd like to be featured here, send your shot to mskymkemp@gmail.com and tell us:
1) If you have a website where you display your photos.
2) About the photo—who was with you, where were you, why did you go there, what made you decide to click the camera, etc.
3) About you—how long have you been in Humboldt? Single/Married/have kids? What do you do for a living? Or avoid this topic if you could get arrested for telling the truth…
---