Northern California Wildflowers: Diogenes' Lantern Lily
Kym Kemp / Tuesday, June 17, 2014 @ noon / Featured Image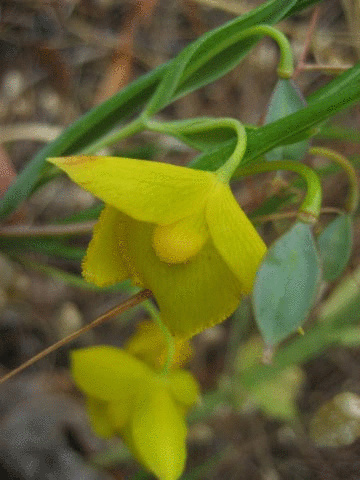 Wildflowers tuck themselves into shadows and throw themselves in brightly colored blankets over the meadows of Humboldt. Cheryl Lisin of the Lost Coast Interpretive Association (see their beautiful Facebook page here) has offered to do a series to help us learn to identify some of them.
Here's what Lisin wrote about this bright flower (one of my favorites:
There is an awesome wildflower display going off right now on the road to Phillipsville, just past the exit from northbound 101. This dry rocky roadbank is great habitat for plants that like good drainage. The most prolific flower there is Diogenes' lantern lily, Calochortus amabilis. Diogenes was a Greek philosopher & cynic who carried a lantern in the daytime, saying he was looking for an honest man. These bright yellow lantern lilies do indeed look lit up!
The nodding flowers have 3 spreading sepals and 3 downward curving petals with brown spots and a fringe of hairs. You can see the seed pods forming on some of the plants.

Other species in the lily family growing here are harvest brodiaea, blue dicks, soap plant, and firecracker flower. Indian pinks from the pink family and Indian paintbrush from the snapdragon family both add bright red to the show.
Have a wildflower you would like identified? Upload it into the comment section and Lisin will try and help you.
---