It's Golden!
Kym Kemp / Thursday, March 20, 2014 @ 9:12 a.m. / Featured Image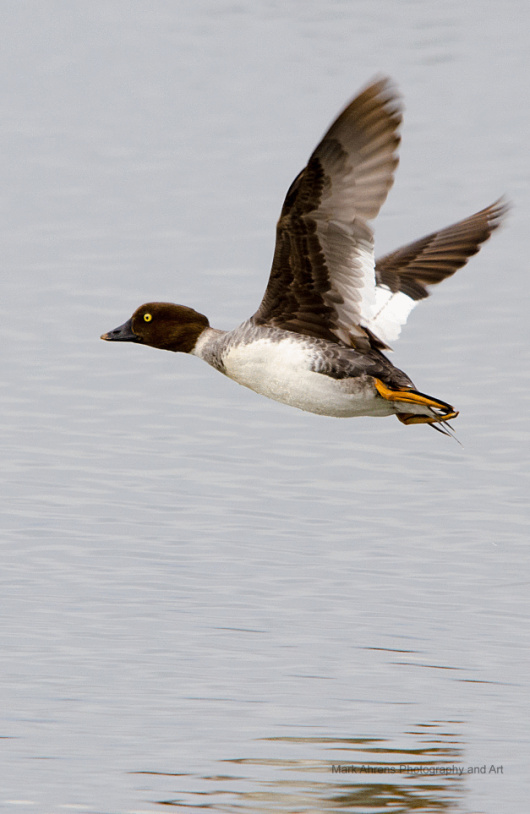 Walking through Humboldt's forests, crossing the sands of its beaches, resting in its meadows, no matter where you are outside in this county there almost always comes at least one moment when the heart eases and the shoulders drop—the golden moment when you are, if only for a second, caught up in the beauty around you.
Photographer Mark Ahrens catches many such moments on his blog. Here, he captured a crisp photo of a Goldeneye hen skimming over the water of the Humboldt Bay.
Ahrens, a resident of Eureka, primarily shoots nature (Here's a recent shot called Instant Mist) but he occasionally shots other subjects (as he did when he captured closeup photos of the behemoth USS Independence when it stopped here for repairs.)
LoCO hopes you make time to enjoy this first day of Spring. May you find your own golden moment and remember why you live in this beautiful place.
–––-
If you have a photograph you'd like to be featured here, send your shot to mskymkemp@gmail.com and tell us:
1) If you have a website where you display your photos.
2) About the photo—who was with you, where were you, why did you go there, what made you decide to click the camera, etc.
3) About you—how long have you been in Humboldt? Single/married/have kids? What do you do for a living? Anything you think might be of interest.
---