The Birds
Kym Kemp / Wednesday, March 5, 2014 @ noon / Featured Image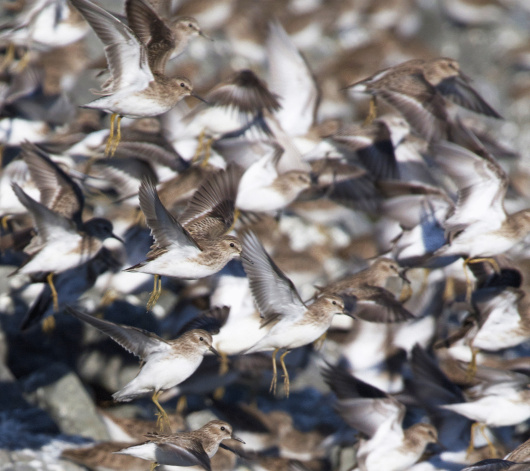 Like skilled magicians, the waterways of the North Coast secret multitudes of birds in the folds and curves of their path to the sea. A noise or a whim flings the wild creatures skywards in a whir of wings and cries of alarm.
Several months ago, Martin Swett carried his camera into the Arcata Marsh where he sighted what he called a "cloud of dunlins close the shore." He aimed his telephoto lens in their direction knowing that the next passerby would set them flying. He captured this image as a result of his patience.
Swett recommends the Klopp Lake area in the Marsh as prime spot to see birds. He wrote,
If anyone hasn't seen these bird en masse, Klopp Lake is a prime viewing spot. The clouds they make can go from brown to white and back again in seconds. You'd swear it was choreographed. It's a great way to spend an afternoon.
For some more lovely photos by Swett of Northern California and beyond go here.
–––-
If you have a photograph you'd like to be featured here, send your shot to mskymkemp@gmail.com and tell us:
1) If you have a website where you display your photos.
2) About the photo—who was with you, where were you, why did you go there, what made you decide to click the camera, etc.
3) About you—how long have you been in Humboldt? Single/married/have kids? What do you do for a living? Or avoid this topic if you could get arrested for telling the truth…
---