Egret Rising
Kym Kemp / Sunday, Nov. 9, 2014 @ 9:57 a.m. / Featured Image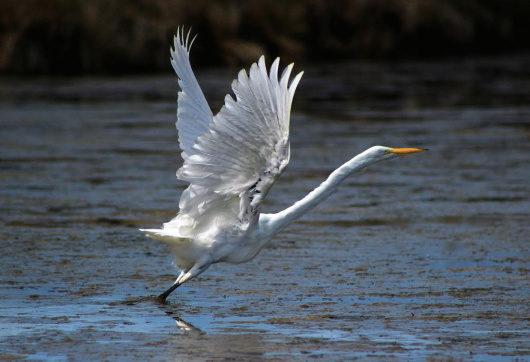 Egrets punctuate the green and blue of our wetlands like delicate flourishes of white ink. They rise slowly at our coming, awkwardly at first then graceful and serene. Or, patiently, they stand, balanced easily on one slender black leg patiently awaiting prey which comes to them. This yoga pose, so often in contrast to the swoosh of cars and rush of drivers hurrying impatiently from one task to the next, paints calm into our lives and is part of why living here is so right for many of us—Nature lines the pathways of our lives.
Any photos of Humboldt that show that serenity? A peaceful Sunday would be made more peaceful in the quiet appreciation of our soul-satisfying surroundings. Please share with us by uploading photos in the comment section. (Instructions here.) Remember that you usually need to refresh after uploading to see the images.
—
A fan of Featured Photos? Then this page devoted to North Coast images is one we enjoy. As is Barns of Humboldt County. Like them to get more beautiful images of Humboldt on your Facebook feed.
See more of Andrew Smith's images by clicking here.
—
Got a photo you want us to Feature? Send it to mskymkemp@gmail.com with the words FEATURE PHOTO in the subject line. Include a bit about the photo and yourself.
---