Fall Flower: Ceanothus
Kym Kemp / Wednesday, Oct. 29, 2014 @ 7:45 a.m. / Featured Image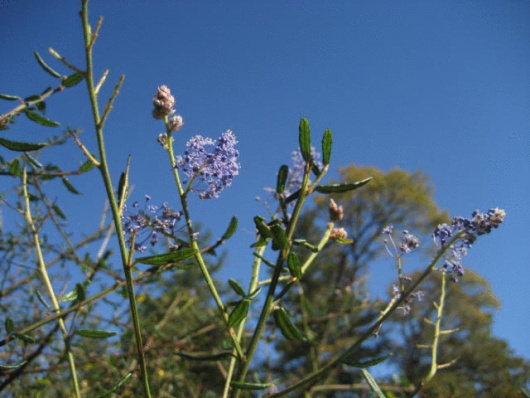 It is Wildflower Wednesday. Wildflowers tuck themselves into shadows and throw themselves in brightly colored blankets over the meadows of Humboldt. Cheryl Lisin of the Lost Coast Interpretive Association (see the beautiful Facebook page here) has offered to do a series to help us learn to identify some of them.
Ceanothus thyrseflorus blooms in the spring and, when the weather is mild, in the fall, too. Lisin described some blooming earlier this month.
Tiny pollinators buzz around the flowers when the sun is shining. When fully blooming in May, the hillsides above Shelter Cove can appear blue from the abundance of plants there. When out of bloom, this large shrub is barely noticeable. Flowers are usually deep blue, but range to very pale blue and sometimes white. When mixed with water the blossoms make a fragrant soap which is good for shampoo.

Common names are California lilac or blueblossom, and like its relative, whitethorn, it often has a repeat bloom in Fall. Ceanothus is in the buckthorn family, Rhamnaceae.
We all need a bit of color to sweeten our morning. If you have a Humboldt flower to share, please upload it in the comment section for us to enjoy.
---