The Trailing Edge of Humboldt
Kym Kemp / Friday, Oct. 3, 2014 @ 7:47 a.m. / Featured Image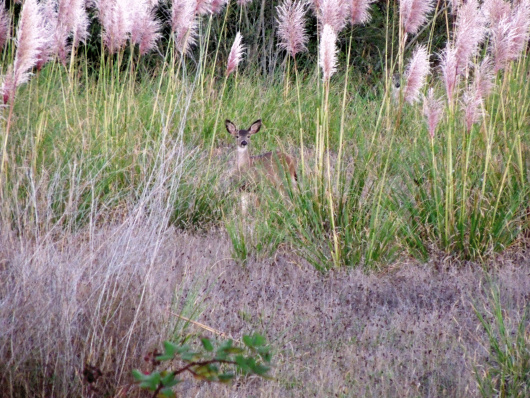 Barely known pathways and carefully constructed large trails provide glimpses into the far reaches of Humboldt's rural areas and to places within our towns and cities. They offer our city dwellers, rural residents and tourists entry into the quiet of nature. Wildlife as well as human life cross ways on them. They not only offer access to our natural world. They are treasures themselves.
Yesterday, local photographer, Shain Paiment, added this deer grazing off the Hikshari' Trail to his image collection (For more shots captured by Paiment, go here.)
Have you a shot of our trails to share with the rest of us? If so, upload into our comment section. Or, tell us what is your favorite pathway.
––––
If you have a photograph you'd like to be a Featured Photo, send your image to mskymkemp@gmail.com, put FEATURED PHOTO in the subject line and tell us:
1) If you have a website where you display your photos.
2) About the photo—who was with you, where were you, why did you go there, what made you decide to click the camera, etc.
3) About you—how long have you been in Humboldt? Single/married/have kids? What do you do for a living? Anything you think might be of interest.
---