Paintbrush—Where's Your Hidden Spot?
Kym Kemp / Wednesday, Feb. 25, 2015 @ 4:44 p.m. / Featured Image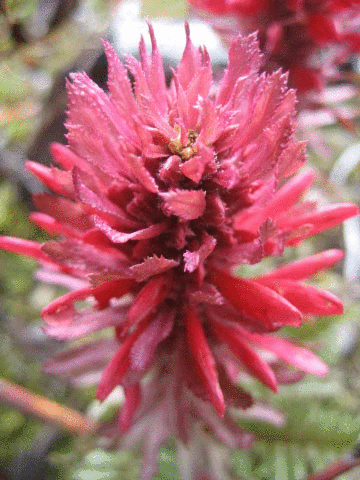 It is Wildflower Wednesday. Wildflowers tuck themselves into shadows and throw themselves in brightly colored blankets over the meadows of Humboldt. Cheryl Lisin of the Lost Coast Interpretive Association (see the beautiful Facebook page here) has offered this series to help us identify some of them.
Humboldt folk often have their favorite place to see certain spring blooms. Some of us know a hidden spot where a few delicate beauties bloom or an open hillside with long swaths of color. Cheryl Lisin, our wildflower expert, gives us a hint of a good spot to find this week's featured flower.
The Indian warrior is in bloom and is spectacular! These are growing on a rocky slope (a common habitat) between the county road and the Mattole River.

New leaves often emerge purple, then turn green. The leaves photosynthesize, but plant roots attach themselves to roots of other plants to get needed organic nutrients. The showiness of the flower spikes comes from colorful bracts around the small flowers. The bracts gradually turn brown and papery, and a seed forms inside each.

A close relative is Indian paintbrush, which is in the same family but different genus. Paintbrushes look somewhat similar and are also simbiotic on other plants' roots.

The scientific name of Indian warrior is Pedicularis densiflora. It is in the snapdragon family, Scrophulariaceae, along with foxglove, penstemon, veronica, as well as snapdragon and paintbrush.
Where is your favorite spot to see something blooming now? And, do you have a photo to tease us with? If so, please upload it in the comment section below. (See hints on how to do that here. Be sure to refresh after uploading for best results.)
If you have another Humboldt image that doesn't fit this theme but you would still like to share it with everyone, send it to mskymkemp@gmail.com with Featured Photo in the subject line.
---