Drifter Killer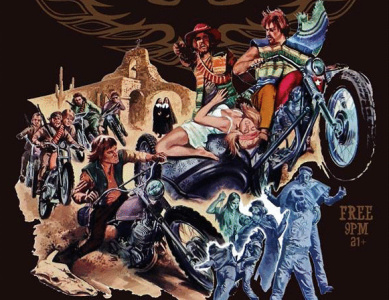 Sexy local music makers, Drifter Killer will play at the Palm Lounge June 29th 2013. Opening the show is the debut of rowdy, outlaw country outfit Cliff Dallas and the Death Valley Troubadours, which also features Drifter Killer frontman Cliff Dallas.
Drifter Killer creates a volatile mixture of high energy rock 'n' roll injected with doses of psychedelic trips gone wrong, Death Valley at dawn, drag races at night, and drug deals gone right. Face melting guitar solos and hard driving lyrics punctuate the Drifter Killer experience creating a performance not to be missed.
To follow up their debut album, Sweet Head Shocker, Drifter killer is poised to return to the studio this summer to record again, an EP length album of new material that will further explore the brutal underbelly of rock and roll as seen through the mescaline eyes of Cliff Dallas, Kirt Dundee, Virgil Steele and Danny Reno. To preview Sweet Head Shocker and for more information about Drifter Killer visit www.reverbnation.com/drifterkiller.
Who: Drifter Killer w/ Cliff Dallas and the Death Valley Troubadours
Where: The Palm Lounge
When: June 29th 2013
Doors at 9:00 pm
21+
No Cover
DATES/TIMES
WHERE
PRICE
---