Aerials in Wonderland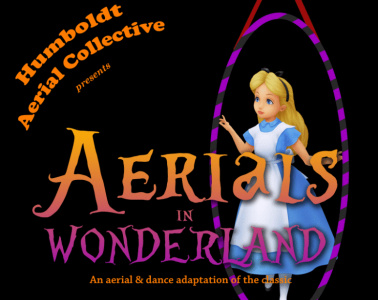 Humboldt Aerial Collective (HAC) and Synapsis Nova are partnering to put on the Collective's adaptation of the classic childhood tale Alice in Wonderland: Aerials in Wonderland. This event will be held Friday, May 19 (doors at 7, event at 7:30) Saturday, May 20 (doors at 7, event at 7:30) and Sunday, May 21 (doors at 12:30, event at 1PM). It will be held at Synapsis Nova on the corner of Second and G Streets in Eureka (the old Saint Vincent's De Paul building at 212 G Street). The production will feature an adaptation of Alice in Wonderland through the medium of aerial silks (aka aerial dance). A Dutch raffle, will be held on Saturday and a bake sale will happen each night. Tickets are $10/person. All proceeds from this event benefit HAC and Synapsis.
The Humboldt Aerial Collective was formed 5 years ago and performs throughout the year, including Arcata's 4 th of July celebration and Coastal Grove Charter School's annual Medieval Festival in Blue Lake. This event is the second that HAC has choreographed and performed as a full length production (as opposed to a series of solo routines). Both children and adults will be a part of this production with the youngest performer just 8 years old, while the eldest is 50. Synapsis is a collective of folks dedicated to experimentation in art, performance, and the body.
They organize aerial, yoga, and dance classes, cabarets, showings of new work, and collaborative projects, from festivals to puppet-making to cooking… Aerials in Wonderland is an event for all ages and a Humboldt milestone not to be missed! All proceeds from ticket sales, Dutch raffle, and bake sale directly benefit the Humboldt Aerial Collective and Synapsis.
DATES/TIMES
WHERE
PRICE
CONTACT INFO
Phone: 599-4452
Email: lovetoyoualways@gmail.com.
---