Sunday, May 13, 2018's Lowdown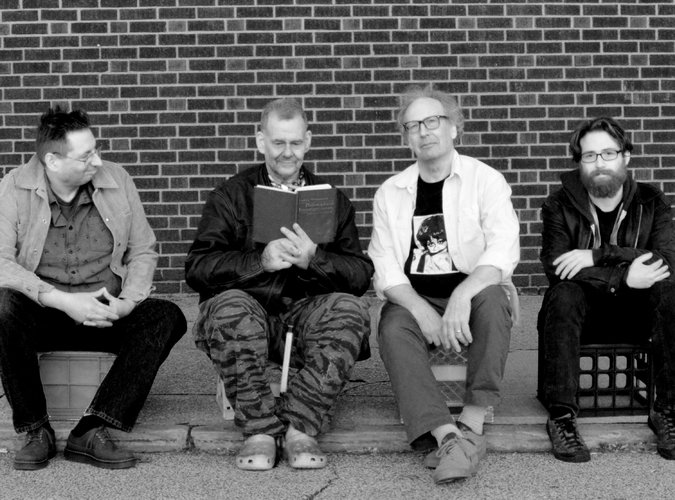 Oh, so you've come to the Lowdown for Mother's Day ideas? OK, fine. Err… does mom like '70s proto-punk with a Cleveland-y flavor to it? Sure! What mutha don't?
Well, then you better haul mother down to The Siren's Song Tavern where revived no wave band X__X (pronounced "ex blank ex) will headline a night of amplified wow alongside locals The Tweeners and Blackplate. Other more traditional options in your Lowdown listings below.
Events
Hope, Heart, and Haydn: A Spring Concert
Christ Episcopal Church / 2-4 p.m. / $15
Local vocal ensemble, A Company of Voices, presents… "Hope, Heart, and Haydn: A Spring Concert," featuring Haydn's "Little Organ Mass" with guest instrumentalists, and a variety of a cappella selections celebrating nature, faith and the human experience.

acompanysinger@gmail.com /
The House that Will Not Stand
Redwood Curtain Theatre / 2 p.m. / $17 / $22 5/5 Gala Opening / $10 Thursdays
New Orleans, 1836. Following an era of French colonial rule and relative racial acceptance, Louisiana's "free people of color" are prospering. Beatrice, a free woman of color, has become one of the city's wealthiest women through her relationship with a rich white man.

Web site /
Chicago
Ferndale Repertory Theatre / 8 p.m. / $18 / $10 5/3 preview / $16 students/seniors
"Winner of both the Tony Award for Best Revival and Grammy Award for Best Musical Theater Album, Chicago is the bold, sexy musical about notoriety, celebrity, and human passion."

786-5483 / info@ferndalerep.org / Web site /
La Luz, Ancient Forest
The Miniplex at Richards' Goat Tavern / 8:30 p.m. / $15 / 21+
"A clear-eyed testament that surf rock can be technically inventive and still have way more fun than everyone else." - NPR

630-5000 / Web site /
X_X, The Tweeners, Blackplate
The Siren's Song Tavern / 9-11:59 p.m. / $8 / 18+
"Proto punk legends from Cleveland which holds members have influenced '70s CBGB's scene and beyond. Opening are Eureka freaks The Tweeners and Shively farm rockers Blackplate. Bring your mama!"

498-3338 / jjh49@asis.com / Web site /
Movie Showtimes
Broadway Cinema
A QUIET PLACE: 12:20, 2:35, 4:50, 7:20, 9:35
AVENGERS: INFINITY WAR 2D: 11:50, 1:55, 3:15, 5:25, 6:40, 8:50
AVENGERS: INFINITY WAR 3D: 7:45
BAD SAMARITAN: 5:15
BLACK PANTHER 2D: 2:45, 8:30
BLOCKERS: 3:30, 9:20
BREAKING IN: 12:05, 2:20, 4:35, 6:55, 9:15
I FEEL PRETTY: 12:55, 3:35, 6:15, 8:55
LIFE OF THE PARTY: 12:00, 1:15, 2:40, 3:50, 6:25, 9:00
OVERBOARD: 1:05, 3:45, 6:30, 9:10
RAMPAGE 2D: 12:15
READY PLAYER ONE 2D: 6:05
SOUND OF MUSIC: 12:00, 5:40
SUPER TROOPERS 2: 11:55, 2:25, 4:50, 7:15, 9:45
TULLY: 1:35, 4:00, 6:20, 8:40
Mill Creek Cinema
A QUIET PLACE: 12:20, 2:35, 4:50, 7:10, 9:30
AVENGERS: INFINITY WAR 2D: 12:55, 2:20, 4:20, 5:40, 7:45, 9:00
AVENGERS: INFINITY WAR 3D: 3:20
BAD SAMARITAN: 6:00
BLACK PANTHER 2D: 12:05, 3:00, 8:30
I FEEL PRETTY: 12:40, 6:40
LIFE OF THE PARTY: 12:35, 3:15, 5:50, 8:20, 9:20
OVERBOARD: 1:10, 3:50, 6:30, 9:10
TULLY: 1:15, 3:40, 6:05, 8:25
Minor Theatre
AVENGERS: INFINITY WAR: 2:00, 5:30, 9:00
GODARD MON AMOUR (REDOUBTABLE): 5:00
ISLE OF DOGS: 2:30, 7:30
SUPER TROOPERS 2: 10:00
TULLY: 3:30, 6:00, 8:30