Saturday, July 13's Lowdown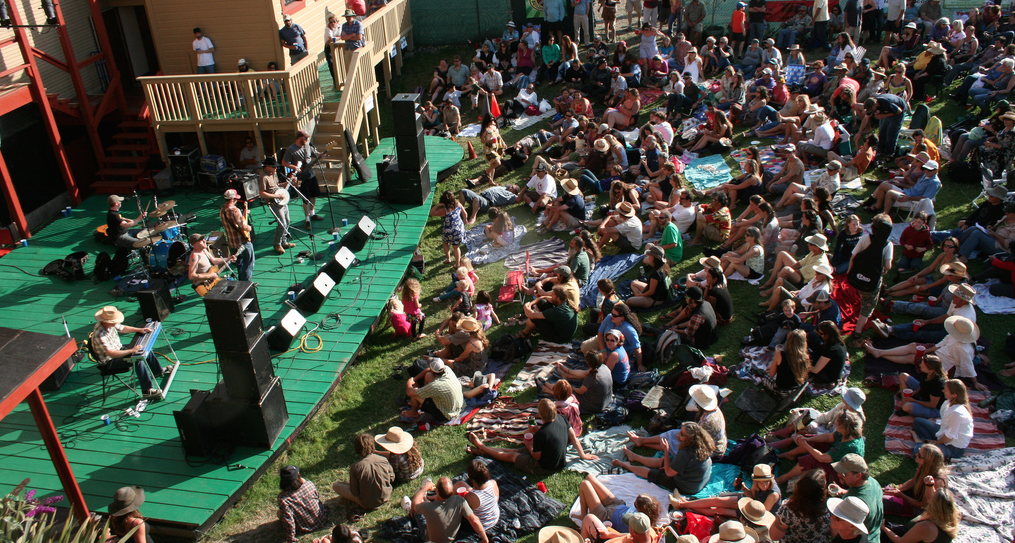 For the next eight days, Blue Lake will once again be the center of Humboldt's musical universe during the Humboldt Folklife Society's annual Humboldt Folklife Festival. Now in its 41st year the event features exclusively local performers and is a great way to succinctly experience a huge swath of Humboldt's musical talent.
Your Lost Coast Outpost has compiled the entire list of performers and events below:
Tickets for all Folklife Festival events can be procured at the Humboldt Folklife Society website. More Saturday events in your Lowdown listings below.
Events
2019 Relay for Life
Eureka High School / midnight-7 p.m.
Relay For Life is the American Cancer Society's biggest fundraising effort to end cancer worldwide. Relay For Life is a time to Celebrate cancer survivors, Remember those we have lost to this terrible disease and Fight Back against cancer.
Web site /
Friendly Henderson Center Block Party
See Event Description / 11 a.m.-3 p.m. / Free
Friendly Henderson Center's Merchant Association (HCMA) is raising money for a trolley and at the same time throwing a big Block Party for the neighborhood!

hendersonmerchants100@gmail.com /
Tolowa Nation Honoring and Sharing Dance
Jedediah Smith Redwoods State Park Day Use Area / 1 p.m. / Free
The demonstration ceremony, which is open to the public and free of charge, is intended to honor the elders and share Tolowa culture with visitors and local communities.
Humboldt Folklife Festival Kickoff
Mad River Brewery Tasting Room / 2 p.m.
Let's kick off our 41st annual Folklife Festival at Mad River Brewery. This evening of free music is sure to get you dancing and excited for a week of Folklife in sunny Blue Lake.

668-4151 / Web site /
Surfrider Humboldt Party and Paddle 2019
Humboldt Bay Social Club / 6-10 p.m.
Summer is here! Come celebrate longer days and warmer weather at Humboldt's newest Ocean Friendly Restaurant—The Humboldt Bay Social Club! Live music, food, drinks, games, and good company.

Web site /
Humboldt Crabs vs. Ukiah Hawks
Arcata Ball Park / 7 p.m. / $9 / $4 under 12 / $6 students/seniors
Your hometown heroes whoop up on some other lesser team. Peanuts, crackerjacks, etc.

Web site /
Through the Waves
Carlo Theatre (Dell'Arte) / 8-9:30 p.m. / $17 / $10 Kids U-12 / $15 Student/Senior/Veteran
"Through the Waves weaves a poetic vocabulary of acrobatic movement and storytelling. This intimate and highly-physical play tells the tale of a woman who is lost between the uncharted waters of her grief and the shores of her joyful memories following the disappearance of her soul-mate."

668-5663 / info@dellarte.com / Web site /
Movie Showtimes
Broadway Cinema
ALADDIN 2D: 11:30, 2:30, 5:35, 8:35
ANNABELLE COMES HOME: 1:50, 4:30, 7:10, 9:45
AVENGERS: ENDGAME 2D: 11:40, 5:50
CHILD'S PLAY: 3:35, 9:40
CRAWL: 12:25, 2:40, 4:55, 7:15, 9:30
MEN IN BLACK: INTERNATIONAL 2D: 6:25, 9:10
MIDSOMMAR: 11:40, 2:50, 6:00, 9:05
SECRET LIFE OF PETS 2 2D: 11:35, 1:55, 4:15
SPIDER-MAN: FAR FROM HOME 2D: 11:30, 12:15, 2:30, 3:15, 4:45, 5:30, 6:15, 8:30, 9:15
SPIDER-MAN: FAR FROM HOME 3D: 1:45, 7:45
STUBER: 1:40, 4:10, 6:35, 9:00
TOY STORY 4 2D: 11:25, 1:20, 3:50, 6:20, 8:50
YESTERDAY: 12:55, 3:40, 6:30, 9:15
Mill Creek Cinema
ANNABELLE COMES HOME: 6:45, 9:20
CRAWL: 12:25, 2:40, 4:55, 7:10, 9:25
MIDSOMMAR: 11:40, 2:50, 6:00, 9:05
SECRET LIFE OF PETS 2 2D: 12:00, 2:10, 4:20
SPIDER-MAN: FAR FROM HOME 2D: 11:30, 12:30, 2:30, 3:30, 5:30, 6:30, 8:30, 9:30
STUBER: 1:30, 3:55, 6:20, 8:45
TOY STORY 4 2D: 11:25, 1:55, 4:25, 6:50, 9:10
YESTERDAY: 12:35, 3:25, 6:15, 9:00
Minor Theatre
MIDSOMMAR: 2:00, 5:30, 9:15
SPIDER-MAN: FAR FROM HOME: 2:40, 6:00, 8:50
THE LAST BLACK MAN IN SAN FRANCISCO: 1:30, 5:00, 8:10