Tuesday, July 16's Lowdown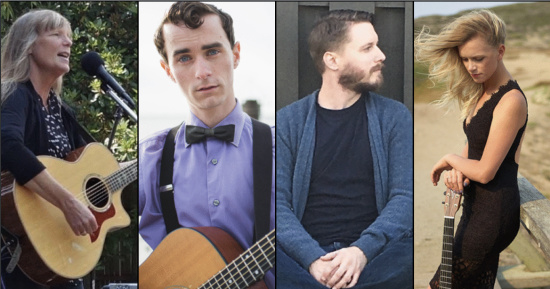 The 2019 Humboldt Folklife Festival rolls on Tuesday night in Dell'Arte's Carlo Theatre with its annual Songwriter Night — an intimate "in the round" song swappin' evening featuring local tunesmiths sharing their babies and discussing how they came to be. Hosted by Patrick Cleary, this year's lineup includes Tracy Symons Smith, Michael Dayvid, Andrew Wakefield and Georgia Ruth. Details below.
Events
Humboldt Crabs vs. Redding Ringtails
Arcata Ball Park / 7 p.m. / $9 / $4 under 12 / $6 students/seniors
Your hometown heroes whoop up on some other lesser team. Peanuts, crackerjacks, etc.

Web site /
Humboldt Folklife Festival: Songwriter Night
Carlo Theatre (Dell'Arte) / 7:30 p.m. / $10 / $5 kids under 12 / $8 HFS members
Join host and songwriter Patrick Cleary along with this year's featured songwriters Michael Dayvid, Georgia Ruth, Tracy Symons Smith, and Andrew Wakefield for an intimate evening with these musicians in Dell'Arte's Carlo Theater.

Web site /
Movie Showtimes
Broadway Cinema
ALADDIN 2D: 11:30, 2:30, 5:35, 8:35
ANNABELLE COMES HOME: 1:50, 4:30, 7:10, 9:45
AVENGERS: ENDGAME 2D: 11:40, 5:50
CHILD'S PLAY: 3:35, 9:40
CRAWL: 12:25, 2:40, 4:55, 7:15, 9:30
MEN IN BLACK: INTERNATIONAL 2D: 6:25, 9:10
MIDSOMMAR: 11:40, 2:50, 6:00, 9:05
SECRET LIFE OF PETS 2 2D: 11:35, 1:55, 4:15
SPIDER-MAN: FAR FROM HOME 2D: 11:30, 12:15, 2:30, 3:15, 4:45, 5:30, 6:15, 8:30, 9:15
SPIDER-MAN: FAR FROM HOME 3D: 1:45, 7:45
STUBER: 1:40, 4:10, 6:35, 9:00
TOY STORY 4 2D: 11:25, 1:20, 3:50, 6:20, 8:50
YESTERDAY: 12:55, 3:40, 6:30, 9:15
Mill Creek Cinema
ANNABELLE COMES HOME: 6:45, 9:20
CRAWL: 12:25, 2:40, 4:55, 7:10, 9:25
MIDSOMMAR: 11:40, 2:50, 6:00, 9:05
SECRET LIFE OF PETS 2 2D: 12:00, 2:10, 4:20
SPIDER-MAN: FAR FROM HOME 2D: 11:30, 12:30, 2:30, 3:30, 5:30, 6:30, 8:30, 9:30
STUBER: 1:30, 3:55, 6:20, 8:45
TOY STORY 4 2D: 11:25, 1:55, 4:25, 6:50, 9:10
YESTERDAY: 12:35, 3:25, 6:15, 9:00
Minor Theatre
MIDSOMMAR: 2:00, 5:30, 9:30
SPIDER-MAN: FAR FROM HOME: 3:00, 6:15, 9:00
THE LAST BLACK MAN IN SAN FRANCISCO: 1:30, 5:00, 8:10