Thursday, Feb. 13's Lowdown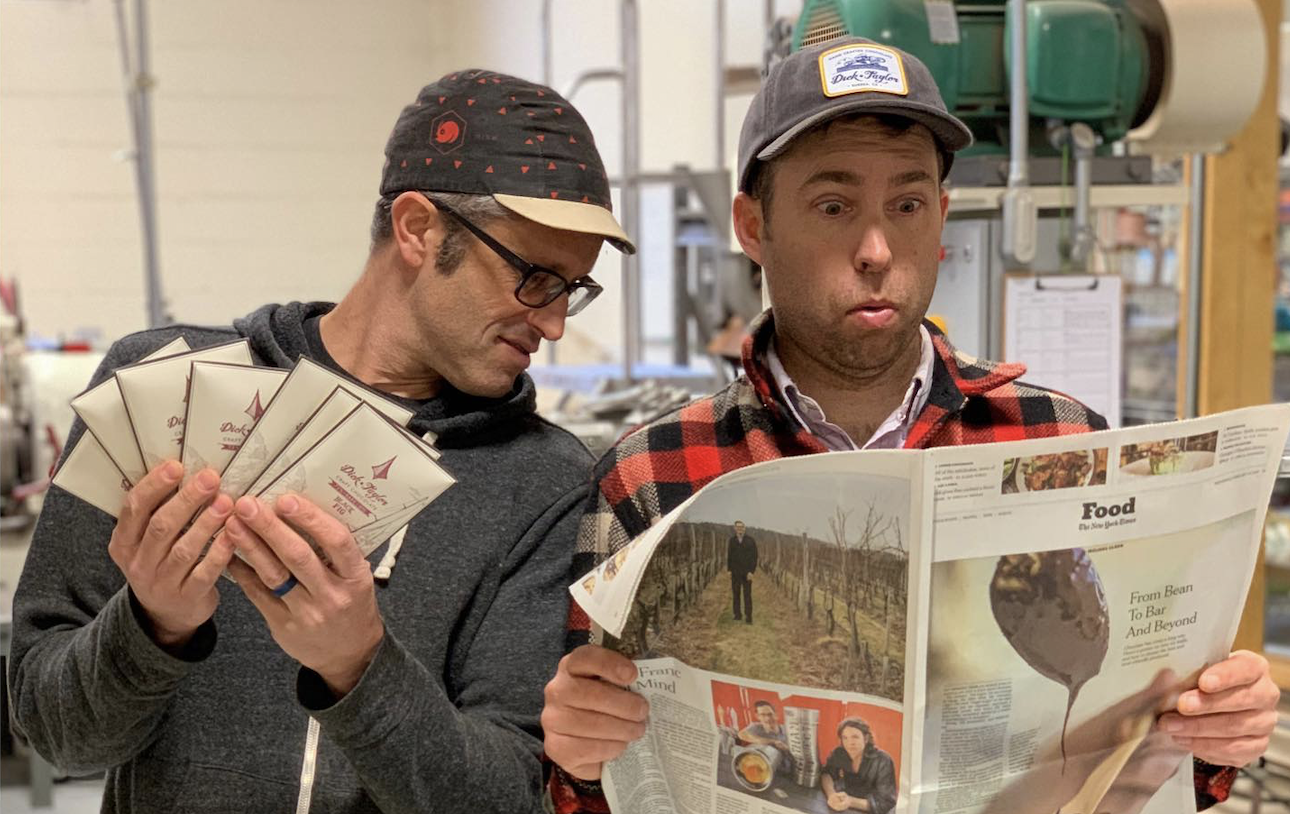 Celebrate a hard-won New York Times blurb with the sweetness makers of Dick Taylor Craft Chocolates on Thursday night when they'll be offering a Valentine's Day-themed Chocolate and Wine Pairing at their factory in Eureka. Full details on that and other Thursday goings-on in your Lowdown listings below.
Events
Valentunes
Arcata High School / 4-8 p.m. / $15
Musical Valentines to send to your loved ones friend and colleagues! Valentunes will be delivered in person by ensemble groups from the ARMACK orchestra and AHS MADRIGAL CHOIR.
845-9662 / Web site /
Talleres de Teatro Gratuitos/Free Theatre Workshops
Jefferson Community Center / 6-8 p.m. / Free
Centro del Pueblo & Dell'Arte International los invitan a los: Historias de la población Latina detras de la cortina de los redwoods El taller será totalmente práctico, vamos a jugar, pasarlo bien, y trabajar la expresión corporal, la voz, trabajar la improvisación, y concernos a través del teatro.

668-5663 / sayda@dellarte.com /
Ocean Night
Arcata Theatre Lounge / 6:30-9 p.m. / Free / $5 Suggested donation
Very special event dedicated to art and music from Humboldt County to the South Pacific. February Ocean Night will feature the Rainbownectar Tour (book signing and live reading of "Rainbownesia" with author Michael Kew), live music by Flying Hellfish, and fabulous surf flicks from around the globe.

822-1220 / Humboldt@surfrider.org / Web site /
Humboldt First District Candidates' Forum
KEET-TV / 7-8 p.m. / Free
The candidates are Rex Bohn, incumbent, and Cliff Berkowitz. Questions will be posed to the candidates by the League of Women Voters of Humboldt County along with questions by viewers and listeners.

445-0811 / production@keet-tv.org / Web site /
Valentine's Day Chocolate & Wine Pairing
Dick Taylor Craft Chocolate / 7-8:30 p.m. / $45
Enjoy a candlelit evening at the chocolate factory indulging in expertly paired Dick Taylor chocolate and wine. Head Chocolate Maker, Adam Dick, will guide you through his favorite pairings and give you an inside peak at the process for selecting these delicious combinations.

798-6010 / events@dtchocolate.com / Web site /
Movie Showtimes
Broadway Cinema
1917: 12:00, 2:55, 5:40, 8:30
2020 OSCAR NOMINATED SHORTS: DOCUMENTARY: 12:25, 6:20
BAD BOYS FOR LIFE: 11:40, 2:40, 5:40, 8:40
BIRDS OF PREY (AND THE FANTABULOUS EMANCIPATION OF ONE HARLEY QUINN): 12:10, 1:00, 1:40, 2:50, 3:40, 4:20, 5:30, 6:20, 7:00, 8:10, 9:00, 9:45
DOLITTLE: 12:50, 3:35, 8:50
GENTLEMEN, THE: 11:20, 1:50, 4:20, 7:00, 9:35
GRETEL & HANSEL: 12:20, 2:40, 5:00, 7:20, 9:40
JUMANJI: THE NEXT LEVEL: 11:35, 2:30, 5:25, 8:25
KNIVES OUT: 3:30, 6:25
RHYTHM SECTION, THE: 12:15, 9:20
SONIC THE HEDGEHOG: 6:00
STAR WARS: THE RISE OF SKYWALKER (2D): 11:25, 2:35, 5:50, 9:05
TURNING, THE: 3:35, 9:30
Mill Creek Cinema
1917: 3:10, 8:50
BAD BOYS FOR LIFE: 2:40, 5:40, 8:40
BIRDS OF PREY (AND THE FANTABULOUS EMANCIPATION OF ONE HARLEY QUINN): 3:10, 3:55, 5:50, 6:35, 8:30, 9:20
DOLITTLE: 2:45, 5:20, 8:00
GENTLEMEN, THE: 4:10, 6:45, 9:15
GRETEL & HANSEL: 4:00, 6:20, 8:45
RHYTHM SECTION, THE: 9:10
SONIC THE HEDGEHOG: 6:00
STAR WARS: THE RISE OF SKYWALKER (2D): 3:00, 6:10
Minor Theatre
2020 OSCAR SHORTS - ANIMATED: 5:30
2020 OSCAR SHORTS - DOCUMENTARY: 2:00
2020 OSCAR SHORTS - LIVE ACTION: 5:45
HARLEY QUINN: BIRDS OF PREY: 3:30, 6:15, 9:00
JOJO RABBIT: 8:30
PARASITE: 2:15, 8:00