Thursday, Feb. 20's Lowdown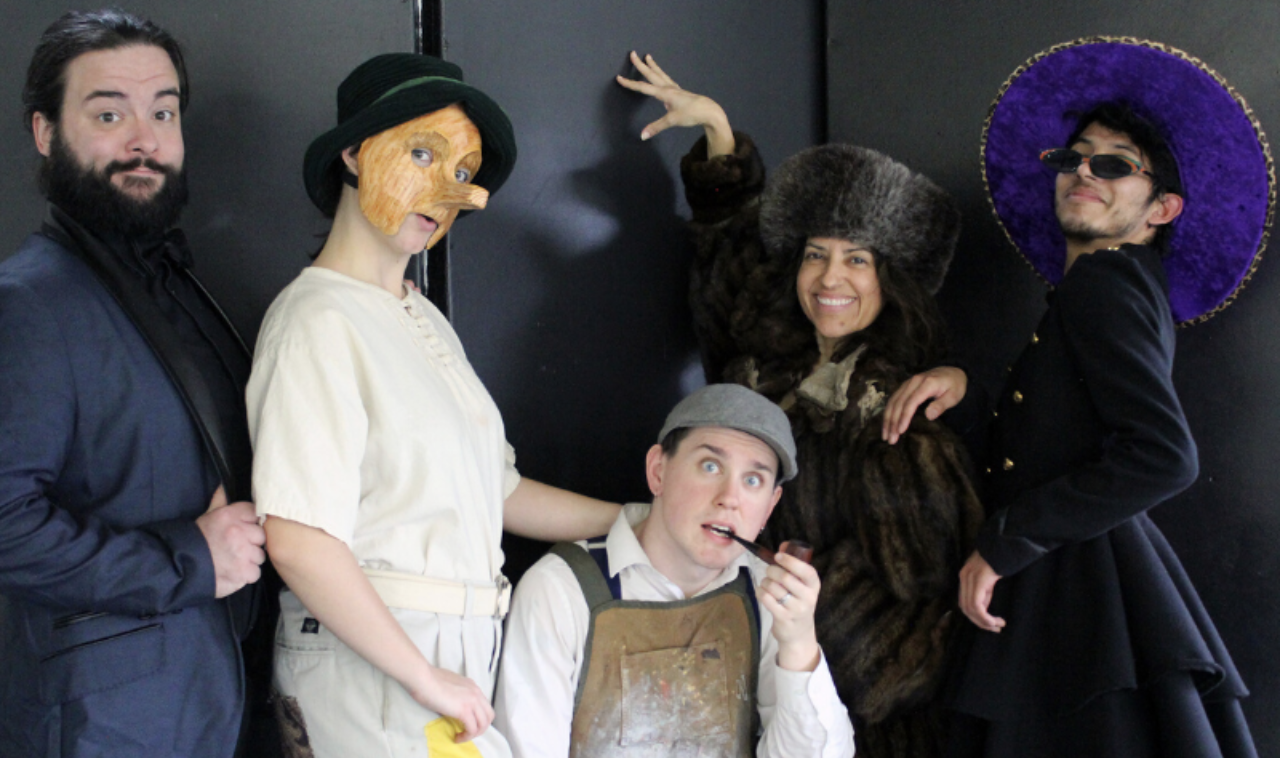 Each year Dell'Arte MFA students tackle an adaptation project wherein they reimagine classic literary works to include Dell'Arte-ish theatricalness. Your Humboldt Thursday features the latest effort: Strings Attached, an adult-themed version of The Adventures of Pinocchio. Details on that and more in your Lowdown listings below. (Do note: The show runs only this weekend.)
Events
Strings Attached
Dell'Arte's Carlo Theatre / 8 p.m.
Dell'Arte International School of Physical Theatre's second year MFA ensemble presents "Strings Attached," an adaptation of the timeless classic "The Adventures of Pinocchio." This student performance is not suitable for children, and is pay what you can.
College Night
Arcata Theatre Lounge / 10 p.m.-2 a.m. / Free / $3 after first 200 / $2 after first 50 / 21+
Good music, poppin' dance floor, and the ATL dance team. Come to college night this Thursday to blow off some steam!

822-1220 / info@arcatatheatre.com / Web site /
Movie Showtimes
Broadway Cinema
1917: 12:00, 2:55, 5:40, 8:30
BAD BOYS FOR LIFE: 11:40, 2:40, 5:40, 8:40
BIRDS OF PREY (AND THE FANTABULOUS EMANCIPATION OF ONE HARLEY QUINN): 11:00, 12:10, 1:40, 3:10, 4:20, 5:50, 7:00, 8:30, 9:45
CALL OF THE WILD: 6:10
DOLITTLE: 12:50, 3:35, 8:50
DOWNHILL: 12:20, 2:40, 5:00, 7:20, 9:40
FANTASY ISLAND: 11:10, 1:50, 4:30, 7:10, 9:50
GENTLEMEN, THE: 4:15, 10:00
GRETEL & HANSEL: 4:00, 9:30
JUMANJI: THE NEXT LEVEL: 1:00, 6:35
KNIVES OUT: 3:20, 9:20
PARASITE (GISAENGCHUNG): 12:15, 6:25
PHOTOGRAPH, THE: 11:35, 2:30, 5:25, 8:25
SONIC THE HEDGEHOG: 11:30, 2:00, 4:20, 6:50, 9:20
STAR WARS: THE RISE OF SKYWALKER (2D): 1:00, 6:50
Mill Creek Cinema
1917: 12:20, 3:10, 8:50
BAD BOYS FOR LIFE: 11:40, 2:40, 5:40, 8:40
BIRDS OF PREY (AND THE FANTABULOUS EMANCIPATION OF ONE HARLEY QUINN): 1:10, 3:55, 6:30, 9:20
CALL OF THE WILD: 6:00
DOLITTLE: 12:00, 2:45, 5:20, 8:00
DOWNHILL: 12:15, 2:20, 4:25, 6:40, 9:00
FANTASY ISLAND: 1:30, 4:10, 6:50, 9:30
GENTLEMEN, THE: 1:20, 6:20
GRETEL & HANSEL: 4:00, 9:10
SONIC THE HEDGEHOG: 12:25, 3:10, 5:50, 8:30
Minor Theatre
$5 FLASHBACK: GREASE (1978): 5:45
HARLEY QUINN: BIRDS OF PREY: 4:15, 7:00, 9:15
SONIC THE HEDGEHOG: 3:45, 6:30, 9:45
WEATHERING WITH YOU: 2:45, 8:45