Dell'Arte's Alice In Wonderland: A Holiday Adventure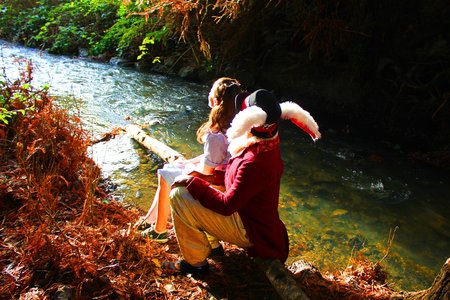 All are invited to come and enjoy Dell Arte Theatre Company's "fractured fairytale" version of Lewis Carroll's story, Alice in Wonderland at the Mateel Community Center on Wednesday, December 7th. The company's live holiday performances are always rollicking, great fun for the littles with professional actors, deft physical comedy, music, colorful sets and costumes and a free holiday cookie buffet!
In keeping with our tradition, the Mateel hall will be decorated in its Holiday best. Hot cocoa with whipped cream, hot apple cider and Santa's favorite, ice cold milk will be offered from the kitchen as well as coffee and tea. The free Holiday Cookie Buffet will be set out for the enjoyment of all who truly believe in their holiday traditions.
A nimble new piece from the Dell'Arte Company featuring original music and athletic acting, this isn't your everyday Alice! Uprooted by family transition and trying to find her footing in a new town, Alice is having trouble adjusting to NorCal life. Tethered to her phone, attempting to stay connected to her old town, Alice is thrown headlong into a Wonderland adventure like you've never seen, filled with familiar faces and surprising twists.
Dell Arte's Alice in Wonderland is directed by Dell'Arte's Producing Artistic Director Michael Fields, and includes original music created and performed by this year's international cast. Featured are: Anne Kjær Wæhrens from Denmark, Zafiria Dimitropoulou from Greece, Tushar Mathew from India, Jeesun Choi from Korea, Emilia Björk from Sweden, Tafadzwa Bob Mutumbi from Zimbabwe, and from the US: Grayson Bradshaw, Taylor Brewerton, Kevin Duvall, Becca Finney, Jenny Lamb, and Lucius Robinson.
In the spirit of season giving, the audience may contribute non-perishable food items, which the cast collects and donates to local food banks in collaboration with local non-profit, Food for People. Mateel is a drop-off site for Toys -for-Tots donations. Those coming to the performance and/or to the Winter Arts Faire can drop off wrapped toys for Toys For Tots. (Donations to either program are not required for entry and are not in lieu of admission.)
Doors open at 6:00pm with curtain at 6:30. This family event is free to current MCC members. Admission to non-members is $10 for adults and $5 for kids, with family pricing discounts available. Memberships will be available at the door for those wishing to take advantage of the free admission benefit for this event and discounts on other Mateel-produced events.
Kids, bring your parents or parents bring your kids. In fact bring your kids, your grandkids, neighbor kids, kids at heart, and ring in the holiday season with an outing to the Mateel Community Center to see Alice in Wonderland! For more information call the Mateel office at 923-3368.
DATES/TIMES
WHERE
PRICE