---
WEED FEED / John Ross Ferrara / Monday, Aug. 13, 2018 @ 10:31 a.m.
Weed Feed: Growers Arrested for Refusing to Leave Mendo Complex Fire Evacuation Zone, Caused Firefighters to Divert Air Drops
---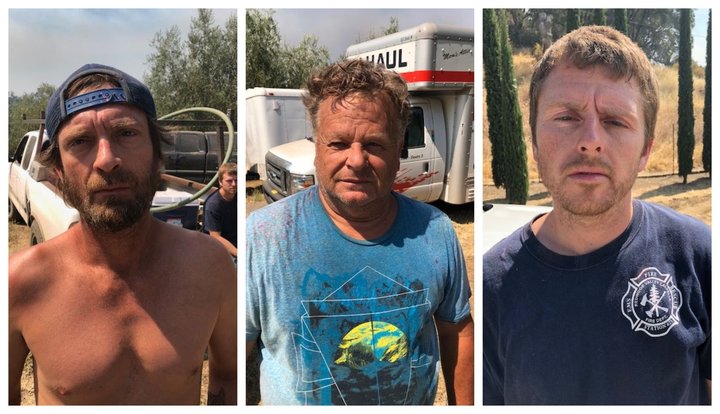 Three men who refused to leave a mandatory evacuation zone in favor of watering their marijuana plants were arrested earlier this month by the Lake County Sheriff's Office.

According to the LCSO, 59-year-old Steven Marshall Bell of Redwood Valley, and 41-year-old Gary Thomas Wertheimer and 29-year-old Travis Steven Bell of Nice, Calif., were arrested on August 4, for interfering with firefighters in an evacuation area.
The men were reportedly acting hostile toward fire engine crews in the area and were seen watering marijuana plants in the evacuated area when they were contacted by sheriff's deputies.
A "Very Large Air Tanker" reportedly had to be diverted from making three different drops because the men refused to leave the area.
Read more from the Lake County Sheriff's Office:
On August 4, 2018, at approximately 1045AM, Deputies were dispatched to the Bartlett Springs Road area, in Nice. Fire crews were reporting three males in a Toyota pickup being hostile towards fire engine crews and refusing to leave the area.

When deputies arrived they contacted the engine crew. The firefighters told deputies they were attempting to fight the front line of the Ranch Fire which was approximately 20 yards from them. The three males refused to leave causing the fire crew to divert three VLAT (Very Large Air Tanker) passes. The VLAT was being used in an attempt to control the fire so it would not continue to travel to the town of Lucerne.

Deputies contacted the males who were identified as Gary Thomas Wertheimer, 41, of Nice, Steven Marshall Bell, 59, of Redwood Valley, and Travis Steven Bell, 29, of Nice. The three were watering their marijuana plants when they were contacted.

All three were arrested for Interfering with Firefighters During a Fire Operation and Unauthorized Person in an Evacuation Area and released with a citation.
###
The Weed Feed is a weekly column written by John Ross Ferrara.
The Weed Feed is a one-stop shop for the best local and national cannabis news.
Each week, original content will be posted to the page, as well as various other stories from around the country.
These aggregated stories are organized into six separate sections. The News (basic news), The Biz (financial news), The Life (features), The Game (sports), The Fame (celebrity), and the Grub (food).
The News
---
The Biz
---
The Life
---
The Game
---
The Fame
---
The Grub
---
The Humboldt Chronicles
From the Outpost
The Feed
---