Borders Bookstore = Kaput, and Other News from the End Days
Hank Sims / Monday, July 18, 2011 @ 4:39 p.m. / What Did We Learn Today?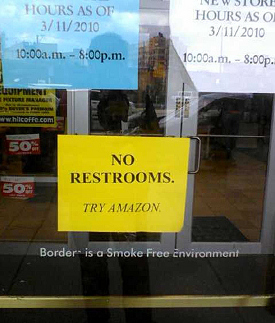 The nation's second-largest bookstore chain gave up the ghost today, five months after declaring bankruptcy. Borders Group's 400-odd remaining stores – including one located at the ever-in-flux Bayshore Mall – will shut their doors very soon.
Citing company policy, a manager at the Eureka store declined to speak to the Lost Coast Outpost this afternoon. A couple of months ago, Buzzfeed collected a bunch of photographs documenting workplace civil disobedience in response to the first round of bankruptcy-related store closures.
###
The mass hunger strike throughout the California prison system continues apace. An Op-Ed piece in yesterday's New York Times was sympathetic to the strikers, calling the refusal of food "the only weapon these prisoners have left." But the Chron quotes state prison officials laying blame for the action at the feet of organized crime, saying that the coordinated effort demonstrates "the power, influence and reach of prison gangs."
The strike, which started at the maximum-security SHU unit at Del Norte County's Pelican Bay, has entered its third week. Sympathetic civilians are protesting in Los Angeles and San Francisco. KQED-FM's "Forum" program hosted a roundtable discussion on the situation last week with a reporter, a sympathetic attorney and an official with the Department of Corrections. As always, "Forum" is a good way to get up to speed:
###
Speaking of "Forum," the show today hosted antiwar activist (and former Humboldt resident) S. Brian Willson for a discussion of his book, "Blood on the Tracks" – a memoir, among other things, of how he lost his legs trying to halt an arms shipment to Central America. I haven't heard this yet, but since it's "Forum" I'm going to go ahead and recommend it highly:
---