Corral Fire in Trinity Alps—2900 Acres, 0% Contained
Kym Kemp / Friday, Aug. 16, 2013 @ 8:42 p.m. / Fire!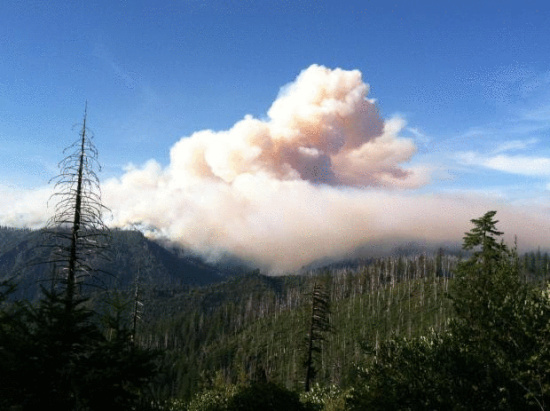 Corral Fire Smoke Column (Photo from InciWeb.)
UPDATE 10 P.M.: The press release in the original post was put out earlier this afternoon. New information just now came out. The latest information about the Corral fire has it at 3,370 acres and still at 0% containment.
Location: Trinity Alps Wilderness, Six Rivers National Forest Date Started: August 10, 2013

Percent Contained: 0% Injuries: 1

Acres Burned: 3,370

Cause: Lightning Resources: Hand crews: 8 Engines: 1

Helicopters: 5 Water Tenders: 1

Fixed Wing 1 Dozers: 4

Total personnel assigned to fire: 566

Summary:

The Corral Complex was started by lightning on August 10, 2013. It is located in the Trinity Alps Wilderness and is burning within the 1999 Megram Fire and the 2009 Backbone Fire areas. The fire is burning actively in heavy snags and thick brush as a result of the previous fires and is moving in a northeasterly direction with backing fire to the south and west.

Planned suppression tactics are being implemented. The remote wilderness location of the Corral Complex, as well as heavy fuels, has made access to the fire extremely challenging and difficult. A suppression plan has been created that uses access and terrain as an advantage. As additional resources arrive, firefighters are beginning to work on opening up trails and existing roads to gain access.

Because of the long distances involved, a remote spike camp has been established in Groves Prairie to support firefighters on the south side of the fire. There is great sensitivity to cultural and heritage resources throughout the fire area. Although the fire is still some distance away (Denny 6.5 miles…Willow Creek 9.5 miles…Salyer 11 miles…Burnt Ranch 13 miles), priority is protecting the Hoopa Reservation on the west and Highway 299 communities on the south.

Smoke Impacts

Smoke from the Corral Complex fire will continue to be visible during active burning periods in the local communities. Depending on changing weather conditions, smoke may create decreased visibility and increased problems for people with respiratory diseases. Predictions on smoke impact indicate that predicted weather conditions may see an increase in smoke density over the next five days. For additional information on smoke conditions and health effects, visit the North Coast Unified Air Quality Management District website at www.ncuaqmd.org.

Restricted Forest Road Access

Forest Service roads 7N26, 7N53, and 7N04 surrounding the the Groves Prairie Spike Camp have restricted public access due to fire crew activity. Long delays may be expected.

Corral Fire Information (909) 553-2876 or visit http://www.inciweb.org/incident/3634/
Original Post below––––––––-
Corral Fire Update Press Release:
…Summary:

The Corral Complex [in eastern Humboldt] was started by lightning on August 10, 2013. It is located in the Trinity Alps Wilderness and is burning within the 1999 Megram Fire and the 2009 Backbone Fire areas. The fire is burning actively in heavy snags and thick brush as a result of the previous fires and is moving in a northeasterly direction with backing fire to the south and west.

Planned suppression tactics are being implemented. The remote wilderness location of the Corral Complex, as well as heavy fuels, has made access to the fire extremely challenging and difficult. The suppression plan has been created to use access and terrain to advantage. As additional resources arrive, firefighters are beginning to work on opening up trails and existing roads to gain access.

We have received authorization to use LIMITED mechanization in the wilderness. Mechanization is being used to open up existing old roads in the wilderness for both access to the fire and also contingency fire lines. Equipment will begin creating contingency lines in an effort to keep the fire from spreading to the west and to the north. Because of the long distances involved, a remote spike camp has been established in Groves Prairie to support firefighters on the south side of the fire. There is great sensitivity to cultural and heritage resources throughout the fire area. Although the fire is still some distance away (Denny 6.5 miles…Willow Creek 9.5 miles…Salyer 11 miles…Burnt Ranch 13 miles), priority is protecting the Hoopa Reservation on the west and Highway 299 communities on the south.

Smoke Impacts

Smoke from the Corral Complex fire will continue to be visible during active burning periods in the local communities. Depending on changing weather conditions, smoke may create decreased visibility and increased problems for people with respiratory diseases. Predictions on smoke impact indicate that predicted weather conditions may see an increase in smoke density over the next five days. For additional information on smoke conditions and health effects, visit the North Coast Unified Air Quality Management District website at www.ncuaqmd.org.

Restricted Forest Road Access

Forest Service roads 7N26, 7N53, and 7N04 surrounding the the Grizzily Prairie Spike Camp have restricted public access due to fire crew activity. Long delays may be expected.

Location: Trinity Alps Wilderness, Six Rivers National Forest Date Started: August 10, 2013

Percent Contained: 0% Injuries: 0

Acres Burned: 2,900

Cause: Lightning Resources: Hand crews: 8 Engines: 1

Helicopters: 4 Water Tenders: 1

Air Tankers: 1 Dozers: 2

Total personnel assigned to fire: 319

[For more] Corral Fire Information (909) 553-2876 or visit or visit http://www.inciweb.org/incident/3634/
---