---
Kym Kemp / Friday, April 26, 2013 @ 10:54 a.m. / Uncategorized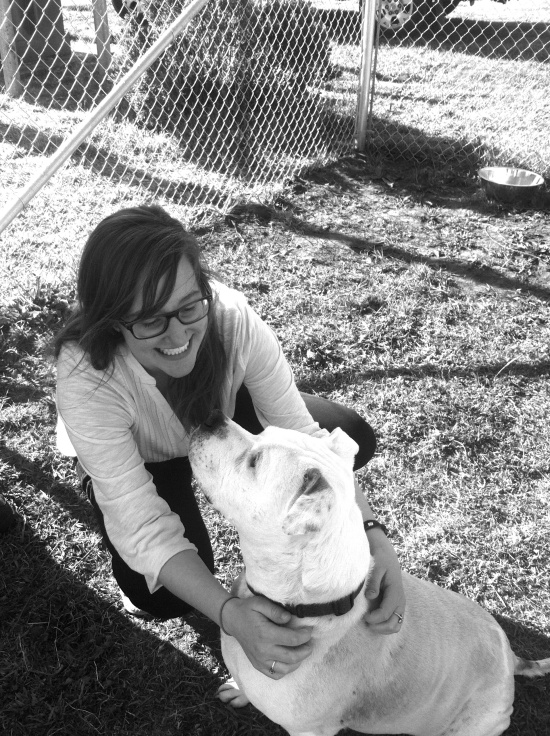 HSU student Emily Taylor hugging her friend Oscar.
UPDATE: Oscar has a home! According to the Humboldt Co. Animal Shelter,
Oscar will be traveling to his new home in Southern Humboldt tomorrow! He'll be joining another HCAS alumnus in a very special home.
Thank you to the SoHum folk who took in special needs dog.
Original post below––––—
"I am in LOVE with this dog, and would like more than anything, to share his awesomeness with this county," writes Humboldt State University student Emily Taylor. She knows a special needs dog is not a good choice for everyone but she thinks the right home is waiting for Oscar who is currently at the Humboldt County Animal Shelter. She sent a pleading email to LoCO asking for help
"At 10 years old," she explains, "Oscar has various tumors, eye problems and medical issues that are still unidentified. With medical conditions that hold him back from living comfortably, he still runs around and has a smiling face that cannot be ignored." She knows that are people who are, as she says, "…more than animal lovers and will welcome…dogs in need." But she thinks those special people haven't heard his story yet and she wants LoCO to spread the word.
Taylor has been falling in love with Oscar for awhile. "I bring him gourmet food, treats, and play with him on Tuesdays," she says but adds, "that does not nearly compare to the gift of a family that he deserves…I personally live in an apartment that does not allow dogs, and I am not in a position (as a college student…) to move to a house that is pet friendly at this specific moment (hopefully in the near future)…but this dog, as well as many others in the shelter deserve a chance at a happy life to do what they were born to do, be a companion."
Taylor isn't the only one advocating for the older dog. The Humboldt County Animal Shelter keeps bumping his story to the top of their Facebook page. This Saturday, they're bringing him out to the public in hopes of finding him a home. They stated, "Oscar will be making an appearance and trying to win over that special someone at Humboldt Pet Supply's Grand Opening, this Saturday at 145 South G St. in Arcata. Redwood Pals Rescue will be there from 3 - 6 with Oscar and some of the rescue dogs that have come out of the shelter. Please stop by and support Humboldt Pet Supply and RPR, who will be one of the beneficiaries of the days sales!"
So how about it Humboldt? Anyone have a good home for this guy?
---
---
Kym Kemp / Sunday, Nov. 6, 2011 @ 11:02 a.m. / Uncategorized
THE INSPECTOR CLUZO
LIVE !
FRIDAY, NOVEMBER 18
- 915 H St, Arcata, CA 95521 -
––—
---
---
Kym Kemp / Friday, Oct. 14, 2011 @ 9:45 a.m. / marijuana , News , Uncategorized
The medical marijuana world shivered as Federal agencies stepped up their enforcement of federal law which contravenes state law. Yesterday's raid at the home of Matt Cohen, a pioneer advocate for the Mendocino 9.31 Compliance program (aka the zip-tie program), rattled already worried activists.  The raid which had at least 6 DEA agents, as well as one state official (BNE) and one Mendocino sheriff's deputy occurred early yesterday morning.  The officers had a federal search warrant signed by a federal judge.  KZYX out of Mendocino interviewed Mendocino Sheriff Tom Allman who was instrumental in developing the 9.31 program. (Listen on KMUD archives of Thursday night news) Allman confirmed the raid saying he had spoken briefly to Cohen on the phone.  He said that as far as he knew Cohen was following all state and local laws.  He added that Cohen was not arrested though his plants were removed and he had several pieces of personal property confiscated.
Allman, who like many good people here in the Emerald Triangle finds themselves pinched between a rock and a hard place, pointed out that while cannabis is federally illegal, voters in California and in Mendocino have unequivocally affirmed their support for medical marijuana. Nonetheless, 9.31 only provides growers with protection from state and county enforcement.  Federal law enforcement can choose to enforce federal law on even the most compliant and clean grower.
The fed push back against medical marijuana began with a tax case against Harborside dispensary in Oakland.  They claim that the large nonprofit must not only pay taxes but cannot deduct business expenses like any other organization. Then the four US Attorneys in California held a conference stating their plan to go after dispensaries that were close to schools etc.  One of the US Attorneys, Laura Duffy, announced that she planned to go after media outlets that were selling advertising to dispensaries.
Industry insiders who just last week comfortably gave their name and occupation are pulling back. A story that I was doing photography for had the driver, who was transporting California legal medical marijuana, normally very outspoken and willing to be interviewed, unexpectedly requesting anonymity because his wife was fearful of federal attention. When I contacted formerly public medical marijuana activists and growers for comment about the Cohen story, all declined to be quoted.  However, one industry insider speculated that Cohen's raid may be part of a plan by federal officials to mark their territory.  If Cohen, who is known as an upstanding businessman and completely compliant with local laws can be taken down, then officials will have effectively terrorized everyone in the medical marijuana community—whereas raiding someone who was more relaxed about legality, could actually encourage folks to become more compliant with local and state law in an effort to avoid prosecution. Furthermore, one source said going after Cohen was "a direct assault on the Mendo program."  It is an assault on a program in which law enforcement is working with the will of the people to manage the harmful effect of crime and provide the best possible protection for the people in their jurisdiction.
Mendocino Co. Supervisor Dan Hamburg said on the Mendocino Discussion list,
One of my ongoing concerns about 9.31 (and while I opposed its passage in 2010 I voted in favor of some revisions to the ordinance in 2011) is that it paints a nice bright target on our collective backs here in Mendocino County. Some would argue that Measure G did the same (with its 25 plants/person language). One difference is that G was simply a "sense of the voters" measure  whereas 9.31 is a county ordinance.
In light of the raid of Northstone Organics (our "poster child" for above board medmar operations) and the recent federal court decision that caused the city of Long Beach to rescind their medical marijuana ordinance, we may need to re-think our direction here. A complicating factor is that 9.31 has become something of a "cash cow" for the MCSO, bringing in around half a million dollars in the last fiscal year.
The Federal officials actions seem to be having the desired effect.
---
---
---
---
Kym Kemp / Sunday, Oct. 9, 2011 @ 8:26 a.m. / Uncategorized
After the rain, growers worry about mold.  But the grower who let me into his garden to take this photo also appreciated the beauty of sticky buds capturing the last drops of water and the first rays of sunshine.  The light caught in one perfect drop which shimmered like a purple diamond.
I'll never forget the beauty of walking after the rain in a ready to harvest garden.
---