Supporters and Endorsements
Which organizations and individuals have endorsed you and why should voters take note of this?
— Jeffersonian
Response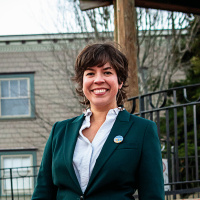 Natalie Arroyo
Hello there,
Thank you for the question. I'm honored and grateful to have so much support from neighbors, local business owners, teachers, medical professionals, fellow elected officials, and plenty of organizations. I think it's important for voters to check out which organizations support certain candidates - these folks take the time to carefully vet candidates to ensure their values are aligned and priorities are shared. Other elected officials also have insight into the ways that the people's representatives can work with them to get things done. That's why I'm so glad the Yurok Tribal Council, U.S. Congressman Jared Huffman, and California Assemblymember Jim Wood have endorsed me, as well as many elected officials from the County of Humboldt, Eureka, Arcata, the Humboldt Bay Harbor Recreation and Conservation District, the Humboldt Bay Municipal Water District, local school boards, and more! These individuals represent their communities and organizations, and showcase democracy at work. Their endorsement means that they see me as effective, collaborative, and capable of the tough policy-making work that's required of a County Supervisor.
I'm also thrilled to have support from so many unions that represent workers in our community: The Humboldt and Del Norte Counties Central Labor Council, The Building and Construction Trades Council of Humboldt and Del Norte Counties, Operating Engineers Local Union No. 3 District 40, International Association of Heat and Frost Insulators and Allied Workers Local 16, United Food + Commercial Workers Local 5, and the Carpenters Local No 751. These organizations advocate for the rights of thousands of working people in Humboldt County. I look forward to working with unions to ensure that I am responsible and informed in decision-making that impacts public employees and public projects. I've also received endorsements from groups that advocate for environmental and public health, like the Redwood Coalition for Climate and Environmental Responsibility and Healthcare for All Humboldt.
Finally, I am proud to have overt support along with plenty of behind-the-scenes support from a lot of people who see the world differently from me, but nonetheless believe that I'm the most qualified candidate for this job. During this especially polarizing time in politics, it's meaningful to know that people from all walks of life and political perspectives see me as fair-minded, caring, and effective.
Please check out all of my endorsements at www.arroyoforsupervisor.com/endorsements - and if you like what you hear, add your name!