What do you intend to do to get the Regional Qualified Climate Action Plan adopted? How will you be sure its requirements are implemented as soon, and as fully, as possible?
— Deborah Dukes
Response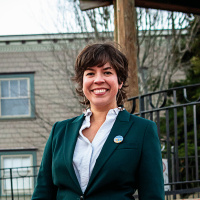 Natalie Arroyo
Hello Deborah,
As a Eureka City Councilmember, I will be reviewing the draft Climate Action Plan and providing feedback this coming week. The CAP will go before cities and the County over the upcoming weeks and I expect it to be adopted soon. Because it is coming forward now, I do think it will be an adopted plan well before the incoming County Supervisors take office. That said, plans can always be modified and updated, whether or not they are designed to be a "living document".
Living document is an interesting turn of phrase when it comes to this particular plan, because I fundamentally believe that adoption of robust climate adaptation strategies is essential to all of our lives. I am pleased to see the CAP's focus on transportation options including trails and transit development, environmental restoration, and forest health and management strategies. All of these approaches have been part of my work in this community for more than 15 years. I have been actively involved in forest health and wildfire prevention, trail planning and development, and wetland restoration throughout my time working in Humboldt County, so these approaches are familiar to me and highly important to me! I am grateful to see their importance underscored by the plan.
I also want to see a focus placed on the electrification of homes, efficiency in refrigerants, efficiency in transportation of goods, food waste reduction, alternative energy production, support for local businesses, and much more. There is a lot that the everyday person can do to support the plan, but government commitment to it is very important and demonstrates leadership.
While I am happy with the CAP overall, I do wish to see the appendices fleshed out more - these include checklists and criteria for monitoring performance. This is where the rubber meets the road, and I intend to make sure the plan has these elements so it is robust enough to be meaningful.
Thank you for this important inquiry!
Sincerely, Natalie Arroyo