University/City Council Relationship
Humboldt State University is one of the big economic drivers in our county and one of our most valuable assets. Given HSU's prominent role in the community, it seems necessary to collaborate with the HSU campus community. How do you plan on building a strong relationship with the HSU campus community?
— Stewart Millar
Responses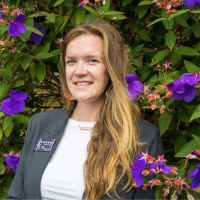 Sarah Schaefer
I want to connect the Arcata community with HSU. Our university brings in a diverse student population with many gifts. I hope we can develop a mutually beneficial relationship between the city and students and other members of the HSU community on their projects and initiatives. There is so much opportunity to collaborate with students on local projects such as community art and beautification, local history outreach and Native American studies, and social work and community services. Many HSU students to not feel fully welcomed and embraced by the Arcata community and that needs to change.
I am young, and that's why I want to get involved in government locally. For far too long, younger voices, especially those of students at HSU and CR have gone unheard by local elected officials. I believe that it is essential to have someone sitting on the council that can see from a younger, fresh perspective and help make decisions that are important to the younger generation living in Arcata.
The recent situation with the San Jose State football team coming to Humboldt State in the midst of a pandemic was somewhat problematic. This situation really highlighted the disconnect between HSU and the local community at large. HSU did not take the city's opinion into consideration on the matter and did not consult the City Council on a decision that directly impacted the public health of ALL Arcata residents, not just the HSU community. I would have liked to see the City Council open more of a conversation about these actions by HSU and use this situation as a gateway to open up these types of discussions and cooperation on decision making between HSU and the City. There needs to be a much more open line of communication between these two communities and representation of the student body.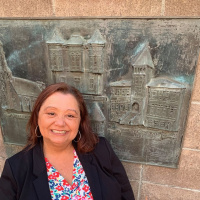 Kimberley White
Thank you Stewart for bringing forth a very important question to the table. The relationship between our university and the City of Arcata is not what it used to be. Our weakened relationship was evident on the lack conversation between the university and the city with regards to relocation of the San Jose State football team to Arcata amidst COVID19.
We have so much talent and resources at our university that we are failing to tap into. We should be taking advantage of this very valuable resource, and vise versa, the university might also better utilize the resources available through the City of Arcata. I am probably going to age myself, but I recall back in graduate school when the university's foundation program, CASAE, the Center for Applied Sociological Analysis and Education used to collaborate with the city of Arcata as well as Humboldt County.
The city spends money hiring outside consultants when we have valuable consultants right here at our fingertips. Not only would this save the city a lot of money, but also would provide invaluable experience for graduate students at the university. It is a win win in that the city receives PhD level oversight from highly published professors from HSU and also it gives experience to graduate students as they prepare possibly to enter the realm of employment with the city after graduation.
Our university also brings to our community art and culture with HSU being the most prominent center on the north coast for art and entertainment.
HSU is indeed a key driver of economic activity in Arcata. According to Economic and Community Impacts Analysis approximately $5.1 million state and local tax revenue is generated in Arcata and almost $9 million in tax revenue is generated within the city if you include the impact from alumni. Mind you, these are conservative estimates.
We need major adjustments and need to better collaborate with HSU. We would do well to also collaborate with The North Coast Small Business Development Center, SBDC, part of HSU's Sponsored Programs Foundation as part of our economic resilience and recovery plan as we come out of the pandemic.
A committee or city working group representing staff, city council and important stakeholders from HSU would be an effective way to get the conversation going. I remember a time when HSU and the City of Arcata had a much stronger relationship. Our university is looked upon as just being "in" Arcata, when it should be looked upon as being "of" Arcata and working together accordingly. It is long over due and it is time we come to the table again and address how we might better collaborate.