Humboldt Today with John Kennedy O'Connor
Multicultural Skincare Therapist Levia Love on the Necessity of 'Black Humboldt', Local Juneteenth Plans, and Self Care in Tense Times
The Lost Coast Outpost continues its adventures in social distancing and Zoom-enabled conversations with the latest edition of Humboldt Holding Up, our attempt at maintaining connection with actual humans during the COVID era.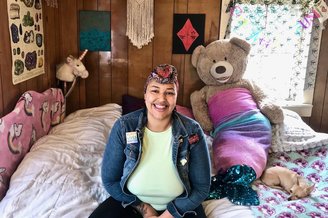 This week we talk with Levia Love, multicultural skincare therapist and owner of Old Town's Bling Brow Bar (website, Facebook), about ways she's adapted to be able to continue providing care to her clients while sheltering in place. We also discuss her involvement with Black Humboldt, a nonprofit that empowers and makes space for local people of color and is one of the organizations helping to produce this year's virtual Juneteenth celebration in Humboldt.
Other topics include: Levia's passion for self care and the work of the North Coast Association of Mental Health Practitioners (NCAMHP); Her take on recent local Black Lives Matter-affirming demonstrations; and her experience growing up in Humboldt and why she's chosen to continue to make it home.
Click the audio player above to hear Levia's chat with LoCO's Stephanie McGeary and Andrew Goff.
PREVIOUS TALKING HUMBOLDT HUMANS:
Listen to this episode
Multicultural Skincare Therapist Levia Love on the Necessity of 'Black Humboldt', Local Juneteenth Plans, and Self Care in Tense Times
---
blog comments powered by

Disqus