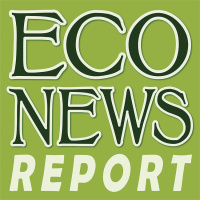 LCCI
The EcoNews Report
Timely interviews on environmental issues that matter most on the North Coast and our bioregion, along with news and information on upcoming meetings, hikes and events. The EcoNews Report features a rotating cast of representatives from local environmental groups.
Subscribe
Episodes
Gang Green talks with Pacific Forest Trust VP Paul Mason, veteran of both our own Headwaters Forest fight and more than a decade of lobbying for environmental causes in Sacramento. Why just saying no isn't enough; how Pacific Forest Trust uses carbon credits and conservation easements to drive better forestry; community forests and carbon sequestration; protecting California's water supply; the disastrous consequences of fire management; the state legislature starts to step up; and above all, making a big enough difference on the scale and time frame we need to address now.
On this week's episode, the Green Gang talks with Jackee Riccio of the CROP Project about trespass cannabis grows—those rascals growing pot on our public lands. With this pot often comes guns, pesticides, and poaching. Listen to learn more.
On this week's show, the Green Gang interviews author Jon Humboldt Gates about his new book, Firestorm, the true life account of living through the 2017 Tubbs Fire. Gates is also the author of Falk's Claim (about the historic lumber town of Falk) and Night Crossings, tales of historical mishaps involving Humboldt Bay.
On this week's episode, the Green Gang investigates mercury in Humboldt Bay and the Eel River. (Could they be connected?) Need a costume idea? We've got you covered. Listen for scary (and maybe sexy) environmental costume ideas.
A new study in the journal Science documents the staggering loss of bird populations in North America—a decline of approximately three billion birds in total over the past 50 years. Local ornithologist Ken Burton says that Humboldt County is not immune to this trend. Using available data, Burton has determined that of the most commonly-reported species in Northwest California, 69 percent of birds were reported less frequently. On the show, Burton digs into the data with the Green Gang to figure out the causes.
The Klamath River is now a person with full legal rights under Yurok Tribal Law. Amy Cordalis, General Counsel for the Yurok Tribe, joins the green gang to talk about what this means for the river and why giving recognizing "personhood" for the river is both a big and little leap under the law. (As Mitt Romney sez: "Corporations are people too, my friend.")
In this week's show, the Green Gang discusses Interior Secretary David Bernhardt's attempts to fast track the approval of the Shasta Dam raise, which would benefit Bernhardt's former client, the Westlands Water District. (The losers? The ecological community that would drown under rising waters.) The Gang also discusses Gov. Gavin Newsom's veto of SB 1, a state bill that would improve state environmental law if the Trump Administration were to weaken federal law. Listen to learn how these two stories are connected.
Greta Thunberg and the children's climate strike. Being an activist for the ecology versus being a single-issue activist. Even a bore and terrible writer like Jonathan Franzen can be right once in a while. "One of the risks to the environment right now is environmentalism." The Karuk Tribe's new climate adaptation plan is a very interesting document. A momma walrus gets hers.
This week's guest is Troy Nicolini, Meteorologist-in-Charge at the National Weather Service in Eureka. Troy has lots of practical, time-tested tips on avoiding sneaker waves, what to do in a tsunami, and why empowering people to take action and connect with each other is better than instilling fear, whether you're dealing with disaster-preparedness or climate action.
On this EcoNews Report, your favorite Forest Grumps talk about "ecological grief" — the deep sense of dread and depression we get from thinking about how we are screwed in the face of climate change and the anthropocene.
The KHUM/LoCO premiere! Here's what we're planning for the newly resuscitated EcoNews Report! Plus: Sea level rise and the Eureka/Arcata corridor; nuking hurricanes. With Tom Wheeler (EPIC), Jen Kalt (Baykeeper), Larry Glass (Northcoast Environmental Center) and Scott Greacen (Friends of the Eel).