---
Klamath Cruising: Congressman Mike Thompson on the river
---
(Update, redux: Donna "Slow Jam" Tam has a comprehensive write-up in the T-S. Andrew Goff serves up entertaining photo-tastic coverage at the NCJ Blog. Also, and most importantly, Hank will return soon, so you will once again have his keen insight and fount o'wit to enjoy here on your LoCO. Do not despair. – JS)
Redwood-covered mountains, rushing blue Klamath River, bald eagles, osprey, blue herons, harbor seals and that stubborn mama whale all provided the sort of scenic wonder that makes one ready to keel over from the visual bliss.
But this wasn't just a joy ride. The occasion? First District Congressman Mike Thompson and NOAA's Principal Deputy Undersecretary for Oceans and Atmosphere Monica Medina joined stakeholders from the Klamath basin, upstream and down, for a tour of the oft-beleaguered watershed. Fishermen, ranchers, tribal representatives and media folk joined a Yurok-hosted jet boat tour that meandered down to the rivermouth itself, then motored upstream to Blue Creek. Come along with us…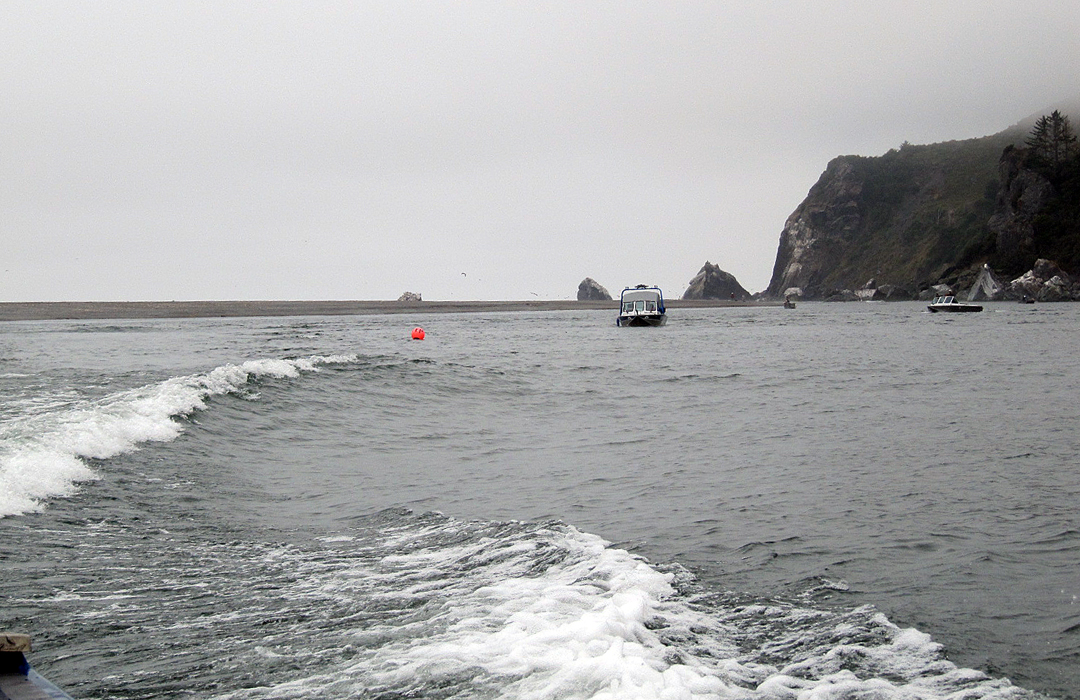 Klamath Rivermouth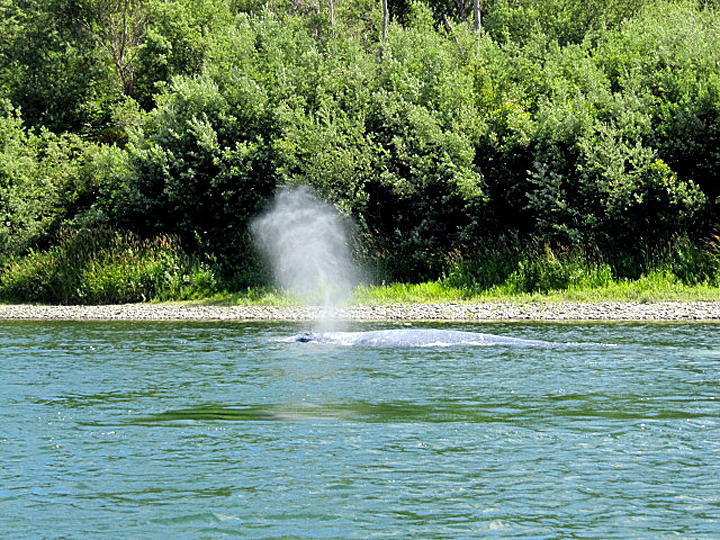 Mama whale still hanging out in the river. Concerns about her health also continue.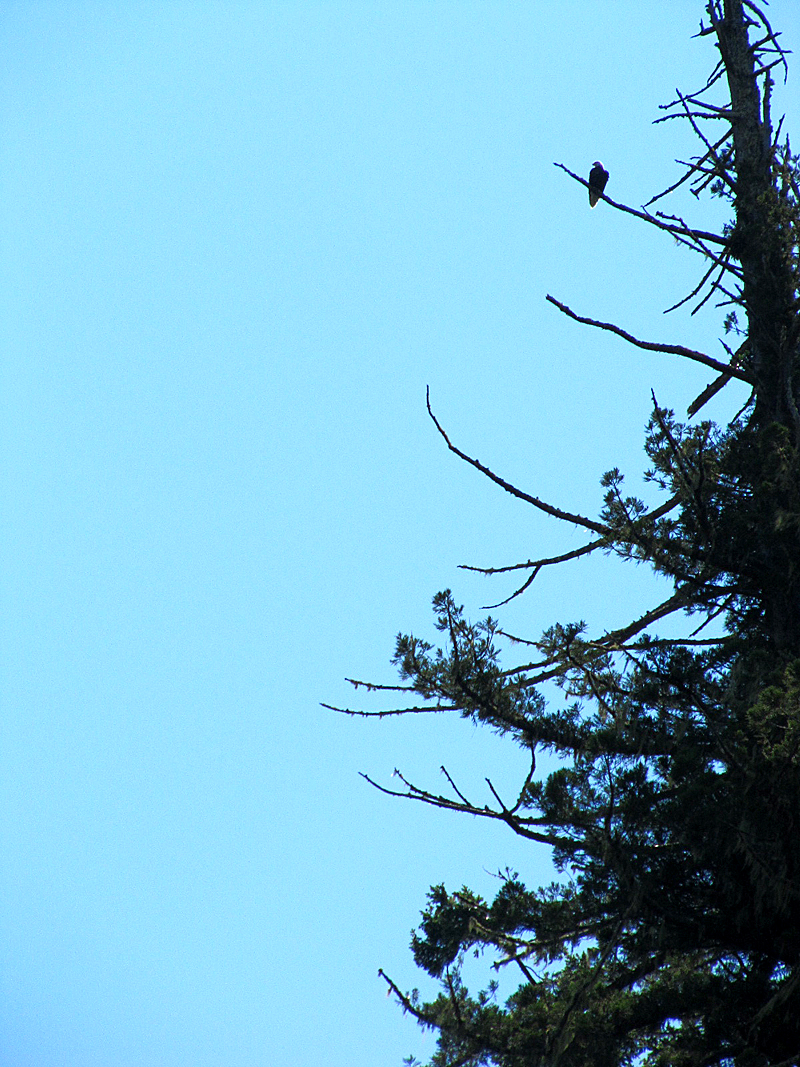 Bald eagle!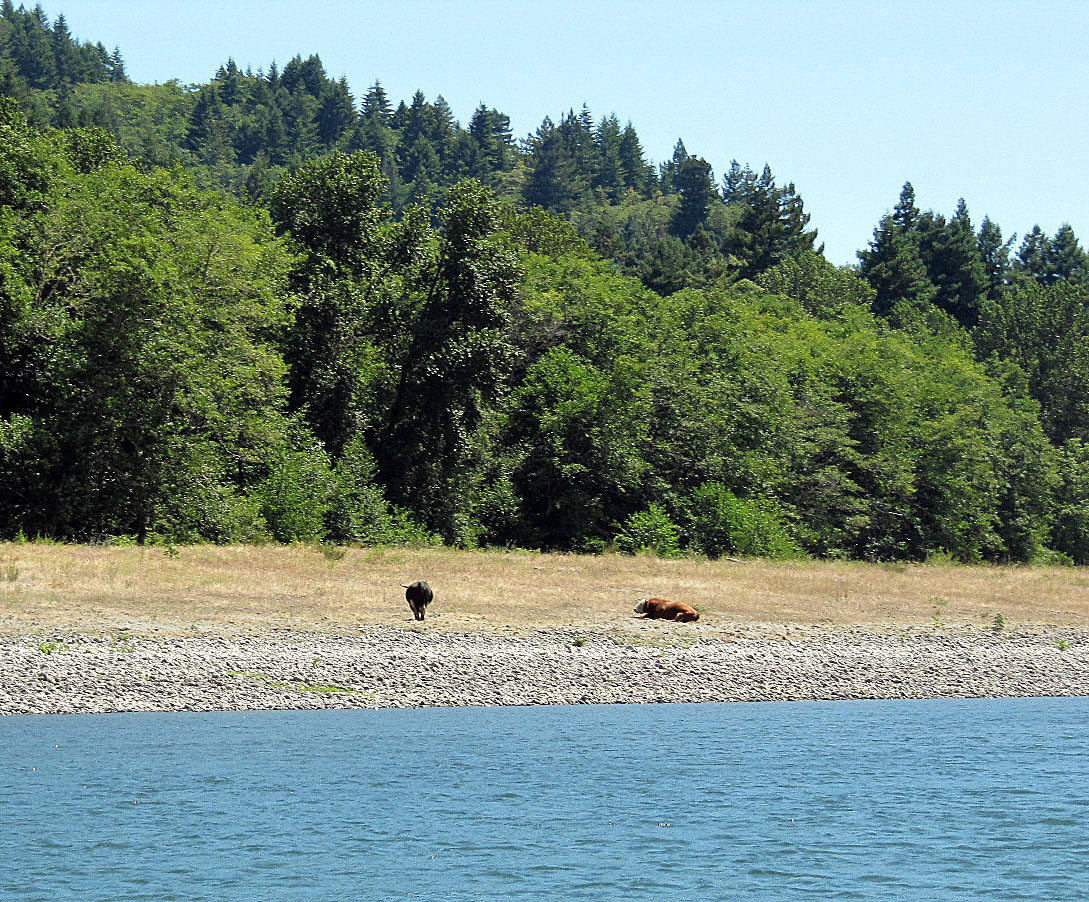 "Feral" cattle? According to some sources.
Then again, we may just be city suckers.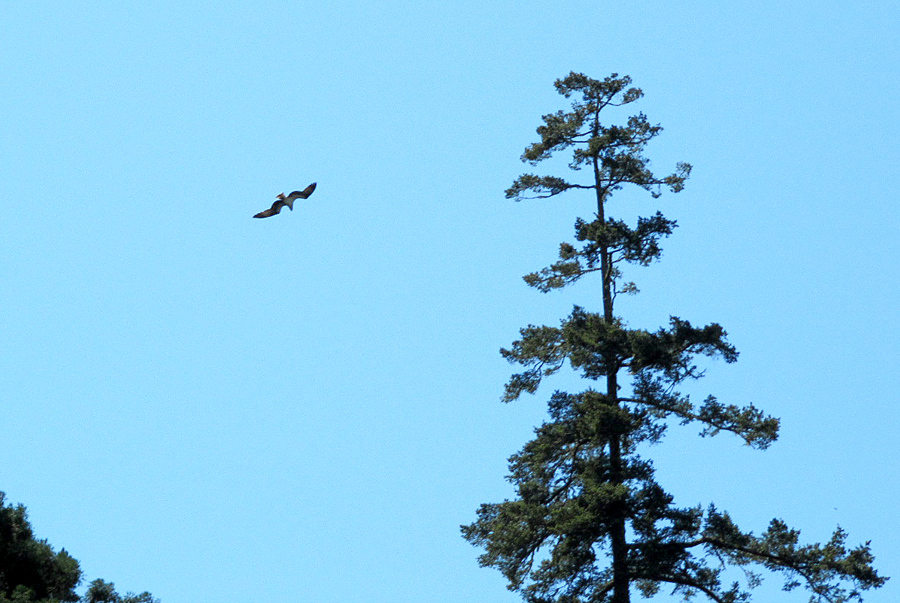 Osprey
At Blue Creek, Yurok Tribal Chair Thomas O'Rourke and Klamath River Technician Troy Fletcher spoke of the history of the Klamath, the importance of Blue Creek, both to the Yurok culture and as a refuge for migrating salmon. Congressman Thompson applauded the efforts of the Yurok and other stakeholders in reaching the Klamath Basin Restoration Agreement. Medina also praised the project and those in attendance: "…it just motivates me to work that much harder… to come through for you." (Video coming soon.)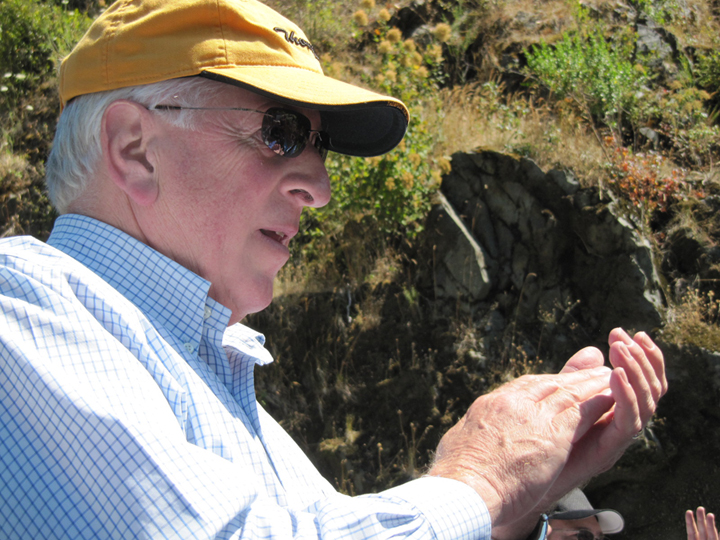 Congressman Thompson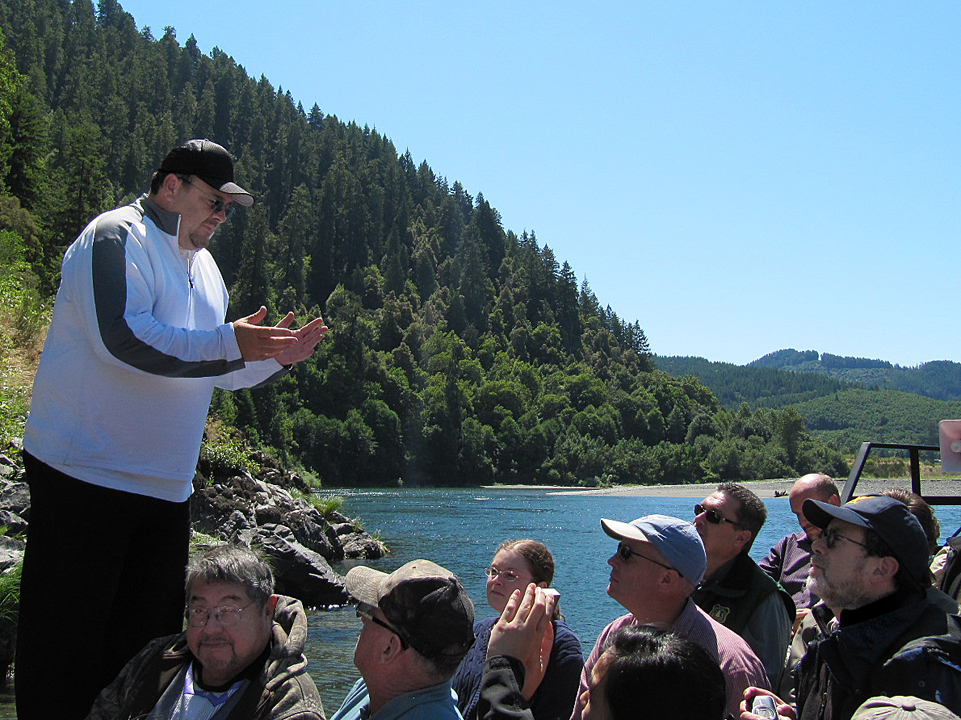 Troy Fletcher addresses the jet boat audience.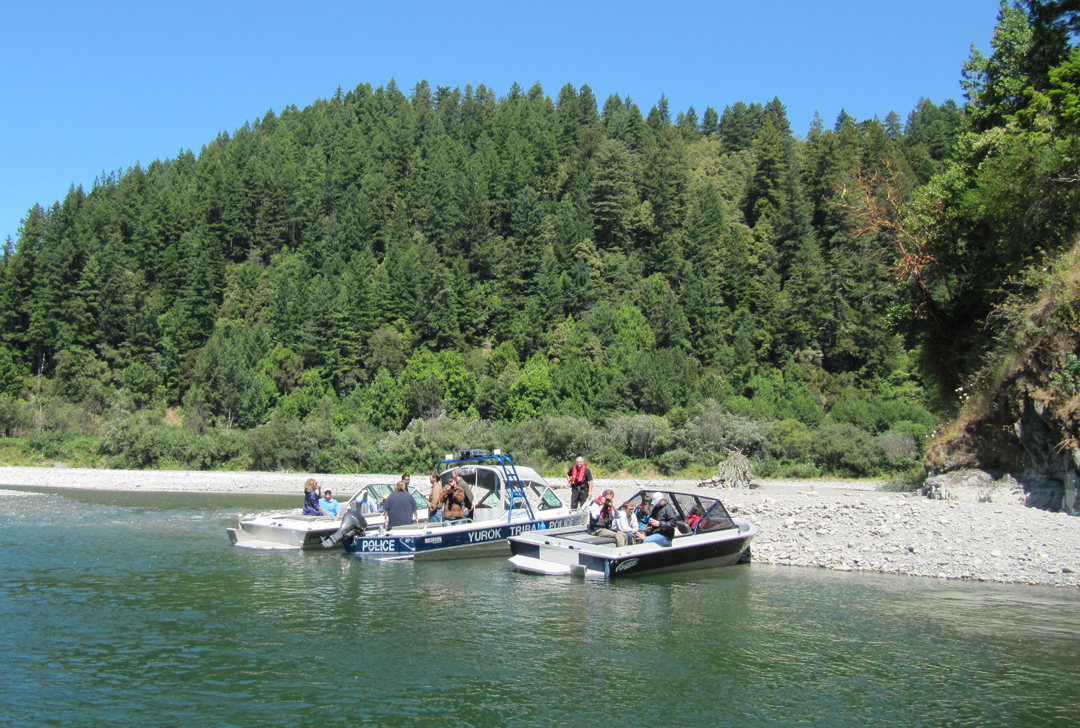 Blue Creek tributary
Back on shore, Congressman Thompson remained optimistic about the KBRA making it through the final hoops. "I'm optimistic, given the work the stakeholders have done," he said. "Now if we can convince folks it's best for everyone." Hurdles remain, especially in the form of amendments proposed by Fourth District Republican Representative Tom McClintock to reduce salmon migration study financing by $1.9 million for a study researching salmon migrations at the Klamath Dam. (McClintock called the proposed study an example of "Greens Gone Wild.")
Several of those who served as stakeholders noted the Klamath agreement could serve as an example of how to do things elsewhere. Thompson agreed. "No question. If you bring stakeholders to the table with the same level of commitment as the people here, a lot more problems could be solved."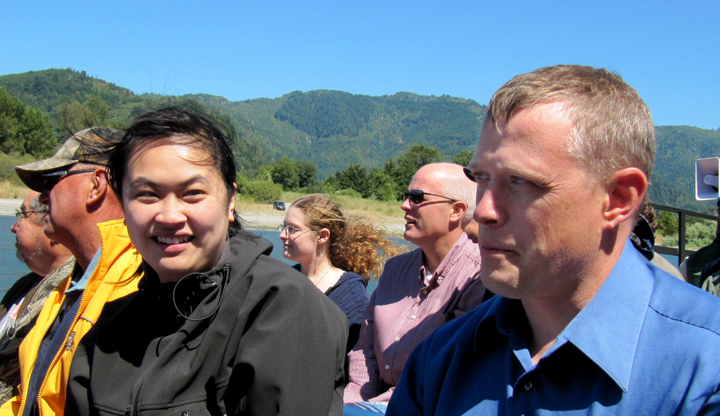 T-S Natural Resources reporter Donna "Wham, Bam, Thank You" Tam with former colleague John Driscoll, now serving as field staff in Thompson's Eureka office.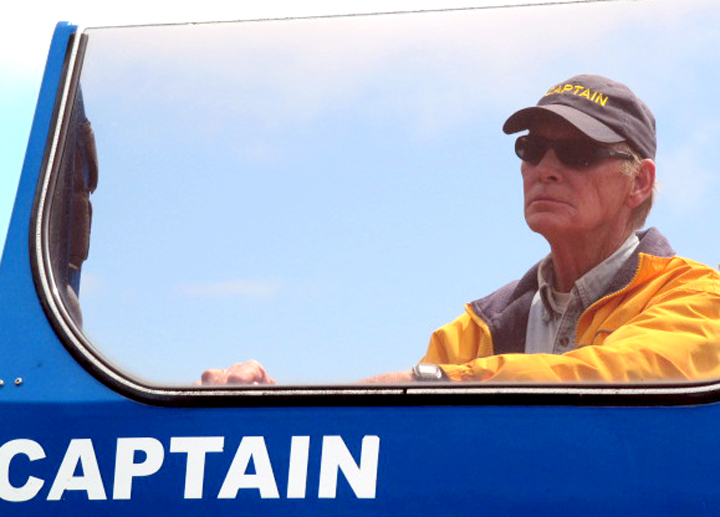 O Captain! our Captain! (Do not be fooled by his serious appearance, for the man cracked wise in between spinning water donuts and pointing out wildlife. "Did you feel that bump?" he asked. "We just crossed over the Humboldt County line.")
---
SHARE →
---
---