You remember last month how we told you that the state would soon be charging hilldwellers for fire protection? Well, it appears that that is still totally happening, though the Sac Bee reports that the California Board of Forestry and Fire Protection today proposed to "water down" Gov. Jerry Brown's $150-per-house fee. That body is thinking about a fee maximum of $90 per building, with credits and discounts that could take it down to almost nothing for some people.
The Spawn of Jarvis are pissed off and threaten to sue, and the board is aware that rural folk are still likely to cause a ruckus. The Bee quotes former Humboldt County Supervisor Stan Dixon, now the chair of the state Forestry and Fire Protection Board, to this effect: "I think we're going to find out those areas that we need to come back and talk about in October because we're going to get an earful," he said.
###
A couple of days ago, Toronto's Globe and Mail carried long and colorful story about a gang of lovable weirdos who are roaming our forests – as we speak, apparently – and making clones of our most majestic redwoods. The idea, apparently, is to redwoodify the entire planet and so save the world. Scientists, needless to say, are skeptical of the Marlboro-smoking leader of this merry band and his mission.
###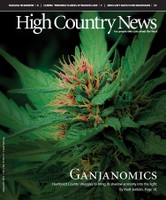 You've already read a gazillion stories about the economics of marijuana production in Humboldt County, but it's a good bet that High Country News brought something different to the table with last week's issue. They had a cover story called "Ganjanomics: Bringing Humboldt's Shadow Economy Into the Light," and the Lost Coast Outpost is guessing that the magazine tackles the subject with its usual smart storytelling. I can't tell you at the moment, though, because HCN, God bless it, is paywalled like a mofo. And not one of these dinky Times-Standard paywalls, either.
There's a free 10-minute video to go along with the story – "Out of the Weeds – The People of Cannabis Country" – but I can't even watch that right now because Flash hates me. Reviews, anyone?
###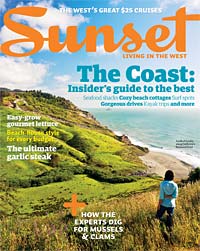 And speaking of big media and "magazines of the West," instant LoCO supercommenter status to the first person who identifies that gorgeous vista on the cover of the September issue Sunset: A Glossy Magazine of Gorgeous Vistas.
Ferndalians disqualified.
###
OMGOMGOMGOMG: You nightlife-type people are all gonna go see them at Humbrews tonight, but we dayjob-type people will to get to revel in the blow-me-away star power of Sallie Ford and the Sound Outside tomorrow morning on KHUM's Mike Dronkers program.
(UPDATE: Much more from KHUM on Ms. Ford and her outside sound.)
That's 104.3/104.7 FM, online at khum.com. And here, if you missed it, is the brilliant Ms. Ford and her Sound Outsiders on Letterman a couple of weeks ago: