---
Local Cilantro Recalled: Chance of Poison Hemlock Contamination
---
UPDATE 4:35 p.m.: KHUM's Larry Trask just spoke to Wild Rose Farm owner Blake Richard on KHUM. He said that he distributes organic cilantro to many stores around the county, and also to local restaurants (but not to local salsa producers or other manufacturers). Bottom line: If you've bought organic cilantro anywhere in the county in the last week, chuck it. Audio follows:
UPDATE, 4:20 p.m.: A few minutes ago, Amy Stewart, author of Wicked Plants, talked with KHUM's Larry Trask about the effects of hemlock poisoning, and also about how a novice or inattentive gardener might be fooled into picking or eating it. Stewart also sent some pictures from her own garden to illustrate the point:
Young poison hemlock (Conium maculatum):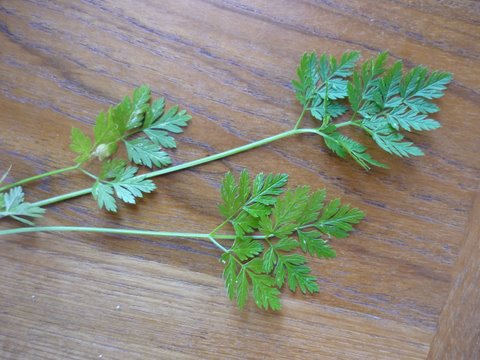 Cilantro: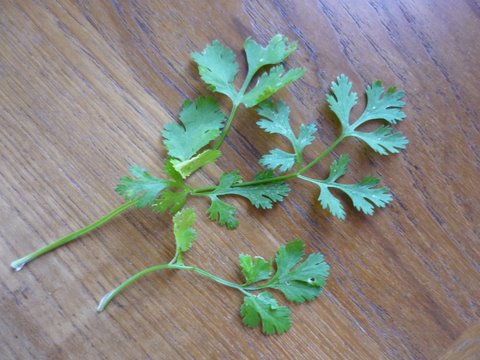 Audio from Trask's talk with Stewart follows:
UPDATE, 4:10 p.m.: Wild Rose Farm owner Blake Richard tells the Lost Coast Outpost that there's only the "remotest chance in the world" that the cilantro crop may have become contamined with hemlock, but he's taking this action out of an abundance of caution.
He said that the recall came about after he noticed hemlock — a common weed — cropping up near the end of one of his cilantro rows. There was no direct evidence at all that the poisonous plant made it into the harvest, but he had a novice picker taking in the crop last week and he felt it best to act prudently.
###
EMERGENCY: Wild Rose Farm in Blue Lake, producer of most all the area's locally grown cilantro, is warning people not to eat any of their cilantro that may have been purchased in the last week. The farm's owner, Blake Richard, just told Lost Coast Communications that there is a chance that his most recent harvest may have been tainted with wild hemlock, a very nasty and deadly plant.
Both Eureka Natural Foods and the Arcata Co-op have pulled the existing product from their shelves. A produce worker at Eureka Natural Foods told the Lost Coast Outpost that she is currently putting up a sign urging people to discard all cilantro purchased since Aug. 22. The farm is currently bringing a fresh supply of cilantro to the store, the employee said.
A produce person at the Eureka Co-op said that the chance of contamination appears to be small, but that they and the farm are taking all possible precautions.
---
SHARE →
---