---
Congressional Candidate Norman Solomon on KHUM Today: Here's Your Homework
---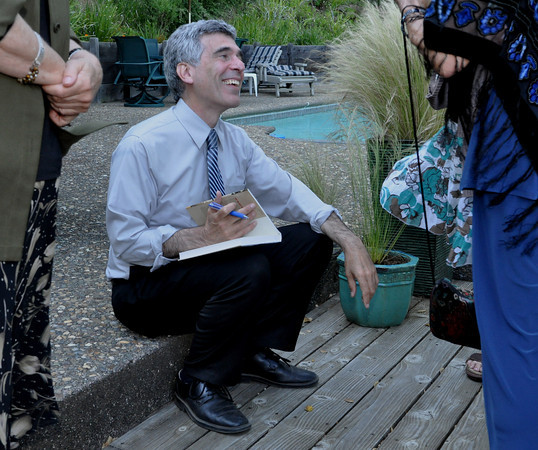 At 11 a.m. on KHUM today: Progressive intellectual/activist Norman Solomon, candidate for Congress from the Second District. This will be the fourth in a series of talks between KHUM's Mike Dronkers and the candidates for that office.
Tune in live: 104.3/104.7 FM, streaming at khum.com. And then come back here for a live chat, through which you can comment on the interview in real time and put your questions to the candidate. You can call in with your questions, too: (707) 786-KHUM.
WHO HE IS
"In 1997, Solomon published The Trouble With Dilbert, in which he said that the popular comic strip Dilbert is a capitalist tool which promotes the evils of corporate America."
A Maryland native and a former reporter, for most of his adult life Solomon has been known as an independent media critic and a progressive intellectual. He has written 11 books, most of them inhabiting the intersection between militarism, corporate American and mass media. If you're unfamiliar with his work — and few people are entirely unfamiliar — you can think of Solomon occupying roughly the same space as people like Howard Zinn or Naomi Wolf.
Here's a clip of the biter bit: Solomon was invited on to the Glenn Beck program to slam Beck/Fox News enemy MSNBC for the fact of their corporate ownership. Solomon heartily obliges, but then almost in passing turns it around on the Murdoch empire, predictably turning Beck into Lou Costello for a moment:
POSITIONS ON THE ISSUES
Hard prog.
Single-payer health care. Peace through military defunding. End tax breaks for the rich. Close California's nuclear power plants. Carbon tax for polluters. End No Child Left Behind. Same-sex marriage. Legalize marijuana.
Solomon has pledged not to accept any campaign donations from corporate political action committees (not that those committees were likely to send millions his way in the first place).
Position papers: Jobs, taxes, environment, education, national security, civil liberties.
HORSERACE
Despite similarities, Solomon is not Ralph Nader. He's running very hard and very seriously, and he's raised plenty of cash.
So does Solomon have a chance? I tend to think that he does — at least in the first round, in June. The most likely scenario, I tend to believe, would be for him to sneak past Republican Dan Roberts to make it a Huffman-Solomon race in November. This would be a very exciting first result of our new open primary system.
Here's the way I think of it, and it might well be the way other people are thinking of it too. Could Jared Huffman have played the role Mike Thompson played in bringing the Klamath Settlement Agreement together? Probably so. Could Norman Solomon have played that role? Never in a million years.
But these are historic times, and it may well be that Democrats — especially in our new deeper blue district —have had enough. Klamath be damned (so to speak): it's time to beat the bastards down. Solomon is the natural candidate of progressive Democrats who are ready to go to the mat. The entire Republican delegation, maybe the entire Republican party, thinks that "compromise" is a dirty word. Maybe it's time to fight fire with fire.
LINKS
Fairness and Accuracy in Reporting "Media Beat" articles
PREVIOUSLY
Candidate Stacey Lawson: Preview, live chat, audio.
Candidate Susan Adams: Preview, live chat, audio.
Candidate Jared Huffman: Preview, live chat, audio.
---
SHARE →
---
---