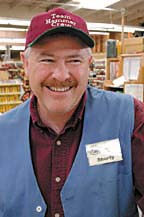 Former Humboldt Crabs coach and well-known community figure Ken "Shorty" Ames pleaded guilty Wednesday to embezzling $250,000 from Pierson's Building Center, where he had worked for over two decades.
According to the District Attorney's office, Ames admitted to committing grand theft by embezzlement from the Eureka hardware company. (Full disclosure: Pierson's is a Lost Coast Outpost advertiser.) Though the DA's office has not yet received a report from the court, a person at the hearing in Judge Bruce Watson's courtroom Wednesday told us that Ames was sentenced to a mixture of probation, restitution and jail time.
Morgan Randall, the Pierson's general manager, told the Lost Coast Outpost today that Ames was the head of the store's charge center, where contractors and other large institutions purchase goods in bulk and are billed monthly. Randall said embezzlement at that desk came to his attention back in March, when he set out to track down why inventory on certain items would never balance properly. After a bit of investigation, he discovered that those were marked as returned to the store far more often than seemed correct. Ames' clerk number was attached to most of those returns, which turned out to be falsified.
Randall said that the embezzlement – which seems, he said, to have gone on for many years – has devastated the Pierson's staff.
"This was a 20-year employee and friend, so it's been really tough on us down here," he said. "It's a work problem, but it feels like a family problem down here. It's just affected us down to the core."
Ames coached the Humboldt Crabs for 10 years, from the mid-90's to the mid-2000s. He has been the subject of numerous profiles in the local press, and was cited for his work with the team in the Congressional Record.
(Photo: NCJ)