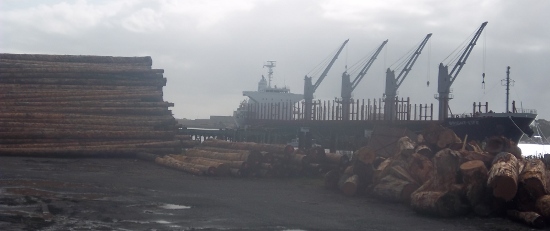 — The Bright Life , a Cyprus-registered vessel, loaded up with logs at Eureka's Schneider Dock over the weekend.
• The Times-Standard kicks off with a piece on Humboldt County's newest booming business opportunity: Raw logs shipped directly to Asia . Humboldt Bay Harbor District officials are expecting the business to grow quickly, writes reporter Donna Tam. They're forecasting a new ship every three weeks in the coming months, ramping up to every other week next year.
What's the economic impact? Bay District staff report that each ship equals about $143,000 paid to businesses and laborers working the bay. (Included in that figure, it would seem, are pilotage fees paid to the district itself.) How many logs make up a shipload? We're not told, and so it'll take a bit more investigation to determine how that $143,000 compares to the salaries of millworkers who, in other times, would be processing those raw logs into lumber.
Tam paraphrases Green Diamond's Jackie Deuschle-Miller on this, to somewhat confusing effect. "Deuschle-Miller says this may be an opportunity to keep all the mills working until the domestic market can recover," she writes. How's that, now? Please elucidate.
• About 5,000 people attended the Redwood Coast Jazz Festival , which ended Sunday. Because of the weather, some outdoor events had to be canceled.
• The North Coast Veterans Resource Center is opening a new transitional living facility — a place for homeless vets — in downtown Eureka.
• A rock slide closed Highway 101 by Leggett for a while. The weekend storm washed away a good chunk of Briceland Road. Kym Kemp had the best coverage , with great photos of the Briceland washout by Kim Sallaway .
A desperate Shelter Cove citizenry tweeted for rescue …
… but county road workers had the destroyed roadway back up and operational in shockingly short order.
• On KMUD's Monday Morning Magazine , the omnipresent Ms. Kemp joins Dennis Huber and members the Humboldt Grower's Association for a chat about their proposed medical marijuana ordinance for the county's unincorporated areas.