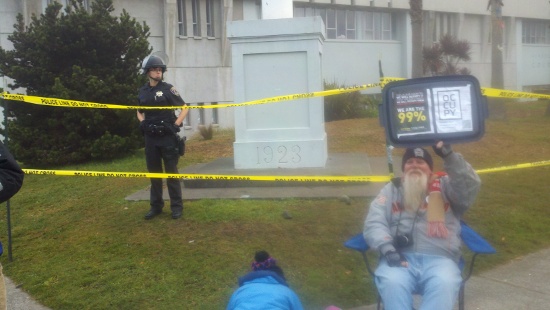 UPDATE, 9:50 a.m.: This morning, KSLG's John Matthews and your Lost Coast Outpost talked to people from the scene of the raided encampment — EPD Chief Murl Harpham, who was debriefing with his crew when we showed up, and Occupier James Decker, who filmed the raid from across the street.
Officers from the Eureka Police Department, the Sheriff's Office, the Arcata PD and the California Highway Patrol assisted in the raid, which began a little before 5 a.m.
Harpham said that somewhere around two dozen people were arrested, including a couple for resisting arrest and one for assault with a deadly weapon on a police officer. Decker said that he witnessed unprovoked acts of force brought by police officers against occupiers.
Audio follows:
UPDATE, 9:28 a.m.: John Matthews spoke with protester James Decker and EPD Chief Murl Harpham this morning; we'll have audio of that posted shortly. For now, here's a press release from the occupyeureka Gmail account, which announces a rally this afternoon:
On Monday, November 14th, 4:50am, a combination of over fifty Eureka Police Department Officers, Humboldt County Sheriffs, and California Highway Patrol moved in on Occupy Eureka. No order for dispersal or any other warning was given; law enforcement quickly encircled and taped off the the demonstration in yellow tape, and everyone within was given no option to leave.

Over twenty demonstrators were arrested, and at this time are unsure with what they are being charged with. We understand that it was the Humboldt Board of Supervisors who ordered this action, and that acting EPD Chief Murl Harpham was on sight overseeing it. Pain compliance techniques, including the use of nunchaku like devices, were used on non-violent, co-operative demonstrators and their cries for help could be heard from across the street of the Humboldt County Court House, the site of the Eureka Occupation.

When a small group of demonstrators crossed the street to film the actions being taken, they were pushed back by officers who then crossed the street in an attempt to break up a small crowd of peaceful onlookers. At least four people who were simply filming the incident were arrested at this time.

UPCOMING EVENTS:

We will be holding a noon rally at the courthouse on Monday in solidarity with Verbena Lea, a local community activist who was also arrested while lawfully filming police on November 10. She has organized outreach surrounding the case of Martin Cotton, where a federal judge found Eureka Police liable for Martin's death and awarded approximately 4.5 million in damages to the Cotton family. We demand her release and an end to targeted arrests of activists exercising their first amendment rights to peacefully observe police response.
###
More to follow, but for now: KSLG callers and a flurry of Facebook activity suggest that police again took down the Occupy encampment at the county courthouse early this morning.