---
CLASS WARFARE: Hear Former MAXXAM Lead Attorney Frank Bacik, Esq. Shred Blazing Solos on Beatles, Van Morrison Hits
---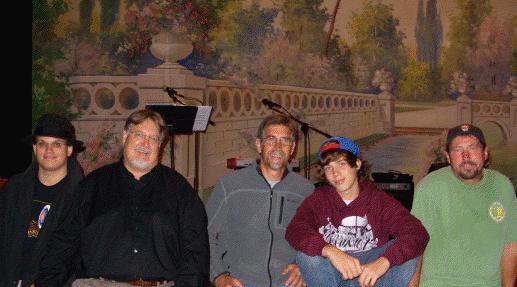 Doug Fir and the 2x4s
Our colleagues at KWPT-FM ("The Point") are in the thick of their "Classic Cover Contest," whereby local musical acts go head-to-head with their versions of any of the 1003 of the greatest rock and roll tracks of all time (all the time).
Moments ago, Loleta hometown favorite Adam Dias pulled a surprise upset against a band that was rocketing up the charts early in the competition — Scotia's Doug Fir and the 2x4s, which features on lead guitar none other than former MAXXAM/Palco attorney (and current Town of Scotia, LLC head honcho) Frank Bacik!
Bacik's pyrotechnic skills are at the forefront in this Doug Fir cover of "Daytripper," an early hit for Liverpool's Fab Four. Our man's challenge, here, is to keep pace with the explosive energy that his lead vocalists are bringing to the table; turns out that the counselor is more than a match.
His duties on "Wild Nights" — coming at you from Irish prettyboy poet Van Morrison, outta 1971 — are more subdued. Still, he's spicing this dish with an extra helping of crunchy/tasty riffage, and his short but meaty solo on the first break is anything but "bacik."
Adam Dias may have knocked Doug Fir out of the top bracket today, but hold on to your hats — the band still has a chance to claw its way back to victory in the finals next week. C'mon, Scotia: #OccupyTheKWPTClassicCoverContest!
---
SHARE →
---