---
Missing Mendocino 10-Year-Old Girl
---
UPDATE, 9:42 a.m.: The Mendo County Sheriff's office reports that Cecellia has been found.
###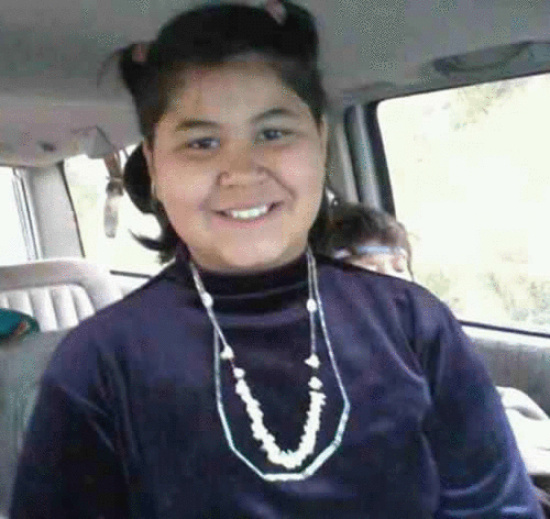 Mendocino Co. Sheriff's Press Release:
On August 14, 2012, at approximately 2100 hours, the Mendocino County Sheriff's Office was contacted by Danielle Bloyd who resides in the 1800 block of Yokayo Ranch Road. Danielle advised that on August 14, 2012 at approximately 1200 hours, her 10 year old daughter, Cecillia, had left the family residence to go visit a neighboring family member. At approximately 1800 hours, Cecillia had not returned. Danielle then went to the neighboring family residence and learned that Cecillia had not arrived at that location. Danielle and other family members started searching the Yokoyo Rancheria area in the hopes of locating the 10 year old Cecillia without success.

At this time, Danielle does not know where her missing daughter may be. Mendocino County Sheriff's Deputies initiated a ground search effort in attempts to locate Cecillia.

Local Be On the Look Outs (BOLOS) were initiated to local law enforcement agencies on August 14, 2012.

On today's date, Mendocino County Sheriff's Office, in conjunction with Search and Rescue, California Highway Patrol and the National Center for Missing and Exploited Children are continuing search efforts in and around the area of Yokayo Rancheria.

A Reverse 9-1-1 call was initiated to local residents from Hopland to Talmage for Cecillia.

Cecillia is described as a Native American Juvenile Female, approximately 4'8 and 130 pounds. She has short black hair and brown eyes. She was last seen wearing a red tee shirt and black colored sweat pants.

Cecillia's photograph can be found at www.mendocinosheriff.com

Anyone with information is encouraged to call the Mendocino County Sheriff's Office Dispatch Center at (707) 463-4086.
---
SHARE →
---