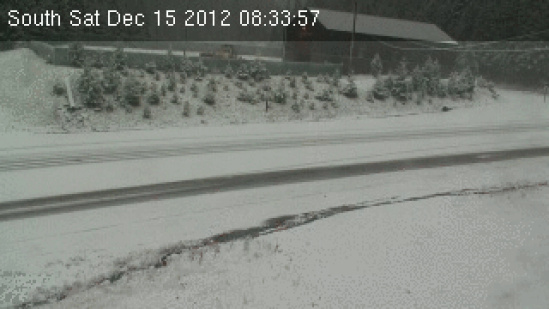 Photo from Caltrans traffic camera on Barry Berry Summit out Hwy 299
UPDATE4:05 P.M.: According to Marty Messenger from County Roads, all the southern Humboldt roads are open. He says that he spent a good part of the day plowing Alderpoint and Bell Springs Rd. "There are some slick spots," he says, but "…it looks like it is warming up." He is hopeful that the roads will stay clear.

UPDATE 2:30 P.M.: There is a report that there is 2 1/2" of snow at Blue Rock up Bell Springs Rd.
UPDATE 12:45 P.M.: According to Marty Messenger of County Roads posting on SoHum Awareness, "At 12:30pm chains/4 wheel drive required on Alderpoint Rd. (Dockweiler Rd. to D. Loop Rd) & Bell Springs Rd."

UPDATE 11:36 A.M.: The CHP site is saying 1-3 inches of snow on Bell Springs Rd.

UPDATE 10:42 A.M: Marty Messenger from County roads reports on SoHum Awareness, "At 9:30am, Shelter Cove Rd. clear. NO SNOW. At 10:30am, Alderpoint Rd. SNOW from [Dyerville Loop Rd. up. We're plowing, drive carefully."
UPDATE 9:43 A.M.: The CHP is reporting that county roads is plowing the Shelter Cove road and then the Alderpoint road.

UPDATE 9:13 A.M.: Hwy 36 is experiencing snow. Also the CHP is reporting slippery conditions due to road being frozen under the snow. See here for more information.

UPDATE 8:40 A.M.: Hwy 299 now is covered with snow. See photos above and below.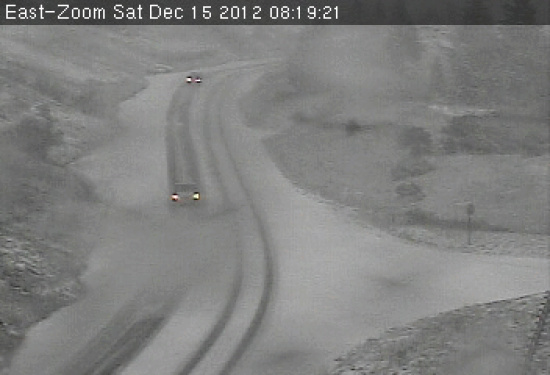 Another view from Caltrans Traffic Cameras on Hwy 299
———————————————————————
According to the National Weather Service, "Morning Radar shows precipitation on the way for today. This will take the form of rain in the lowlands and snow in the mountains. Snow levels will slowly rise through the day though." Areas of Trinity County, eastern Humboldt, and western Siskiyous will see snow. There could be accumulations of 3 to 6 inches.
Check Caltrans for road conditions before traveling. Caltrans also suggest you have full tanks of gas, chains and drive slowly.