---
Letter From Istanbul: Teaching in Riyadh
---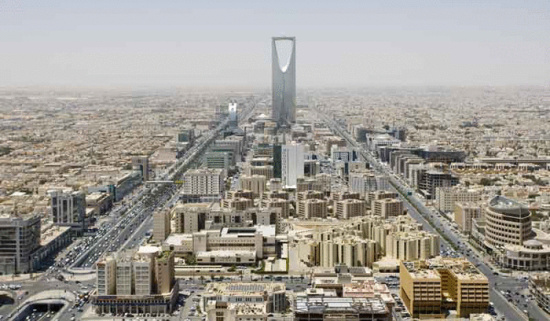 Welcome to Riyadh, the capital and largest city in Saudi Arabia. It is home to some 5.2 million residents, as well as the largest female university in the world. Temperatures in summer can reach a scorching 125 degrees in summer, but today, on this autumn afternoon, it's a cool, comfortable 75.
Riyadh is a diverse city, with 60 percent of the population being native Saudis, while the rest come from India, Sudan, Egypt, Tunisia, Pakistan, Bangladesh, and other places in Africa, Asia and the Middle East.
OK, I'm lying. We're not really in Riyadh today. We're still in Istanbul. All the info above comes from a quick Wikipedia search.
The truth is I have been teaching in Riyadh for several months now, but not physically. It's an online course, a pilot project that I've been a part of here in Istanbul.
Of course, online courses are nothing new, but here in Istanbul and around the Middle East they are becoming a popular and lucrative business. Here in Istanbul, we've been teaching online courses to students from all over Turkey and Cyprus for the past few years. It's especially useful for professionals, who are too tired from commuting in Istanbul traffic to bother attending night classes. All they need to attend the online courses is a laptop, a microphone and an Internet connection. Then they can have the lessons during their lunch hour at work, or at night while relaxing on their sofa after dinner.
The courses are also useful for people living in rural, remote parts of the country, especially the east, where it's difficult to find decent English schools. I have many memories of talking with students who live in these small villages, asking simple questions like, "Is there a hospital where you live?" No. "Is there a cinema?" No, again. "So what is in your neighborhood?" Chickens, cows, dogs, cats. You get the picture.
So online courses are a powerful tool that can provide all kinds of people, no matter where they live, with access to English. In this part of the world, especially for young people, English is an essential, like computer skills, if they hope to get on the fast track to advancement.
The Riyadh project is something new. Since I'm the most experienced online teacher at the school here on the Asian side of the city, I was approached by the coordinator for the project. The company was a Saudi Arabian firm, a leading company in the Middle East. They were interested in working with our school in Istanbul.
That all sounded fine to me. I like online teaching, since it often feels like just having a Skype chat. The students can see you on the video, but you can't see them. There are a few Power Point slides with some vocabulary and grammar, and you bounce off the slides and talk. Over time, you get to know the students, though, by their voices and you actually develop a rapport.
The Riyadh project, however, introduced a new twist. Now we actually follow a book, which the students can see on the screen. As the teacher, I guide them through the exercises. There are videos and listening passages, just like in any language class. I also take attendance and monitor their progress. There are tests.
It's a pretty comprehensive package, all delivered online. Of course, there have been snags, setbacks. As my coordinator said when we started, "You're on page one, I'm on page two." We've basically been flying by the seat of our pants.
In the beginning, technical issues were the biggest problem, as you might expect. For starters, the students not only were in a different country, Saudi Arabia, but they actually work at different branches. Most of them have never even met each other, let alone us, the teachers. The quality of the Internet connection varied depending on their location. Other days, here in Istanbul, our connection would be bad. With bad connections, there are delays, gaps, echoes. It's annoying as hell. Or the students can't hear you, or you can't hear them. The system suddenly crashes. Then there are the less computer-savvy students who have difficulty navigating the system.
Yes, the first few lessons were basically a train wreck, but then I was told beforehand to expect that.
Over the past month or so, things have gradually improved. We've all become more comfortable with the system. Attendance is still an issue – less than a quarter of the students who signed up for the courses actually attend. They say their too busy. Right.
Actually, that's been a blessing in disguise, for having fewer students has enabled me to focus on getting to know the ones that I have better than I would in a really crowded class.
The students are male. That's a bummer. I like having women in my classes. A room full of dudes is too much testosterone. It's nice having a balance of the sexes, to add color, humor, tension, variety. But as they say, you can't change the culture.
Also, you have to be careful with your use of materials. Unlike Istanbul, which is a very cosmopolitan city in a secular, democratic country, Saudi Arabia is very conservative. All of the women pictured in the textbook are covered. Controversial topics are avoided. Even something seemingly harmless as Harry Potter books cannot be used, for sorcery, magic, are taboo and thus forbidden. Politics and religion are best avoided. For example, I have a hard time picturing us having a warm, jolly discussion on the Arab Spring, or the civil war in Syria.
Normally, in Istanbul, I'm fairly relaxed with students. We talk about such topics all the time. And they enjoy hearing my adventures in the city's bars and cafes. They ask if I think Efes, the Turkish beer, is as good as European or American beer. They want to know if I have had hamsi and raki. They want to know my frank opinion of Turkish women. They want to know which clubs I prefer in Taksim. They want to know if I like Gangnamstyle.
With the Saudi students, I carefully avoid any references to drinking anything stronger than tea. I keep my discussions of women limited to polite, general questions about their sisters, wives and daughters.
Despite the cultural differences, teaching them isn't really that different from teaching any other students. The students are all easy-going fellows. I've got about three or four Ahmeds, which means I've always got to use their surnames as well, to avoid confusion. One student is from Egypt, another from Sudan, yet another from Tunisia, and still another from India (so you can trust Wikipedia on Riyadh's diversity). They work in Riyadh because the money is very good. They usually go home to visit their families during Ramadan, which gives them a good solid month off.
Most of their routines are pretty similar, revolving around work, commuting, home and prayer. Their wives stay home and pray, clean the house, cook meals, look after the children, and watch TV. At the weekend, which in Saudi Arabia is Thursday and Friday, the whole family retreats to the park, or the shopping mall.
The fact that I have to work Saturday is a bummer (since in Saudi Arabia, Saturday is Monday). But the nice thing about online learning is that I don't have to go into the school. I still sleep in on Saturday morning, have breakfast, and then head down to the Internet café near my flat. There are only two lessons, one hour each, and after that I'm free.
Overall, it's been an interesting experience. My knowledge, or at least awareness, of day-to-day life in the Muslim world has increased, and I've added another skill to my CV. I've even given thought to devoting more of time to online courses. Despite the technical shortcomings, it's a remarkably efficient way of teaching.
And just imagine: if I can teach students in Saudi Arabia via an Internet café in Istanbul, then who's to say I couldn't teach these same students from anywhere in the world, as long as the Internet connection is reliable? The visions that come to mind are handsome indeed. I picture myself, with a good laptop, sitting on a beach in the Maldives, or Zanzibar – or California. I order a drink, watch the waves, and when it's time for the next lesson, simply log on.
Ultimately, technology is changing our classrooms. It is changing the way teachers teach, and the way students learn.
Nevertheless, some things still get lost in translation. Case in point: Arabic students often confuse the "p" sound and "b" sound. The results can be comic.
"What do you usually do on the weekend?" I ask.
The answer: "On the weekend, I usually go to the bark and bray."
James Tressler was a reporter for the Times-Standard. His books, including "Conversations in Prague," and "The Trumpet Fisherman and Other Istanbul Sketches," are available at Amazon and Lulu. He lives in Istanbul.
---
SHARE →
---
---