---
Letter from Istanbul: The Unfinished City
---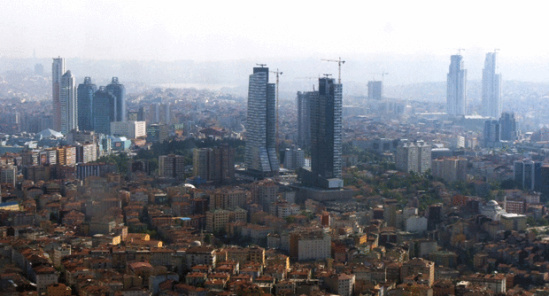 Transforming an ancient, imperial capital into a 21st Century city is a round-the-clock job. Not even the arrival of winter gets in the way.
###
Winter arrived in the city this week. It came suddenly, after an unusally long Mediterranean autumn. For a moment, we thought we were going to get off easy this year. Then sometime around midnight on Tuesday a great storm came in from the Black Sea. Streaks of lightning followed by heavy, booming thunder, heavy rains, pounded the city like an invading army.
In the morning, the streets were cold and wet, the sky dreary. Istanbullites scurried through the streets to catch the buses and shuttles to work. Gusts of wind chased leaves and newspapers after the cats huddled in doorways. Patrons at the cafes sat shivering over cups of Turkish coffee. At street corners, young men sold cheap umbrellas to desperately caught-out passersby.
News reports showed snow falling in the east. There was speculation as to when the first snows would arrive; some said by the end of the week.
Winter in the city means even worse traffic on Istanbul's already choked streets, since the conditions are bad and there are more accidents. A trip that ordinarily takes 15 minutes will likely take nearly an hour. Tempers flare more, finding expression in the car horns that rise and fall like a crazy symphony.
###
Winter in Istanbul also means more focus on work, for better or worse. At the school, they are renovating the downstairs. That means our classes upstairs are punctuated by the sounds of hammers and drills. Since the teacher's room is also being renovated, all of us teachers and our resources are piled into a spare room. We joke that it feels like a refugee camp.
It's exactly the ideal learning environment. Why these renovations couldn't have been done in the summer, when most of the students were away, is a mystery that lies deep in the byzantine recesses of Turkish management philosophy.
The same goes with the street construction on Fahrettin Kerim Gökay Caddesi, commonly referred to as Minibus Avenue, since all the blue minibuses run along this route. The workers are either putting in a new lane, or perhaps upgrading the pipes beneath. Either way, it has created extra bottlenecks. On Thursdays, when there is the weekly bazaar, the street becomes nearly immobile. Again, just why this work couldn't have been done during, say, late summer, when many Istanbullites are away on holiday, is a question not worth troubling over.
My driver, taxi-ing me from a lesson in Atashehir, is marvelously adept at navigating backstreets to avoid the traffic. He's also good at dealing with other drivers, cursing them if need be. If you're a timid or polite driver, you'll never get anywhere. The thing is to just make your move and force the other driver to react. It sounds hostile, but on the day to day level, there is a certain crude harmony, a disjointed flow …
###
"Istanbul is a great, unfinished city." I wrote that sentence three years ago, not long after my arrival. I remember scanning the vast horizons of the my new home. Everywhere you looked you saw work in progress: skyscrapers, office buildings, apartments. Three years later, the pace hasn't slowed. Not too long ago I relocated a a flat on a quiet, tree-lined street in Kadikoy, not far from the Opera House. It was a very quiet street – until they started demolishing the building across the street, as I discovered one Sunday morning. Yes, Sunday morning. Even the park in Goztepe, near my school, is currently undergoing an overhaul that one expects will be done in time for spring and the new flowers.
###
A new metro line on the Asian side of the city recently opened. A new metro line, which will be the world's deepest, running under the Bosphourous and connecting the European and Asian sides, is scheduled to open next year. There's talk among the city's leaders of adding a third Bosphorous Bridge, to help reduce traffic.
Not everybody is crazy about this proposed bridge. Sariyer, the area in Istanbul where the bridge would be built, is one of the last remaining green spaces in the city, a peaceful, wooded area that makes for relaxing walks. Others argue, too, that adding a third bridge will not solve the traffic problem. Istanbul's population, somewhere between 13 million and 15 million, keeps growing every day, as people from the Anatolian towns arrive looking for work.
A great, unfinished city. It makes the mind reel to imagine other developing cities in this new global economy, cities all over the developing world – not just in Asia, but in places like Almati, in Riyadh, Abu Dhabi.
The drive to develop, to grow, continues unchecked by the arrival of winter; it continues on in the cold,amidst the traffic, in the rain.
###
I see this same drive in many of my students. As I write this, my student Meltem is grinding out an essay. She's a law student who is preparing to take the IELTS exam, an English profiency exam, by the end of the month. At the moment, her plans are somewhat vague – her plans to change on a weekly basis – but her ambition is not.
Another student, Furkhan, 20, with a tall, basketball-player frame who is taking his English proficiency exam so that he can work at a hotel in Switzerland (yes, Switzerland).
There is my group of housewives on Friday mornings. One of the women, Aysel, is in her seventies. She's learning English because she has grandchildren in England and in America and she wants to visit them.
There are my business students, whom usually teach in their companies. These students stay an extra two hours in the evening after a long day in the office because unless they can achieve a satisfactory level of English, pay raises and promotions aren't likely to be forthcoming.
This is only a small sample of Istanbul's population, only anecdotal evidence. But these students point to the larger picture, I think. One begins to find a mad clarity in the dense urban jungle of Istanbul's clogged streets, a voice beneath the endless din of traffic horns, the hammering and drilling. The workers digging in the mud on a rainy morning, adding what looks to be a third lane to Minibus Avenue, the collapsed building that is being disposed of by a tractor, the skeletal foundation of a new building to take its place.
All of these are signs of a city that is forever in the process of renewal, a city that was once considered the center of the world; a city with thousands of years of history, that has been the seat of three Empires. A city that is struggling to meet the needs of a 21st Century society.
Given these tasks, one feels less inclined to get impatient with the traffic (a little less), the noise, the long hours. One even feels a bit envious, for you think of cities in America that have declined in recent decades. We could use a bit of Istanbul's surplus energy. I feel the same way about many of my students. They remind me of myself, some 15 years ago, a full-time student while holding a job down at night, and working on the campus newspaper on the weekends. I had a vague idea of where I was going then, into journalism, and that I wanted to write. Perhaps it was the hard work then that has given me the privilege of being where I am now, a prime witness of the birth of a new world.
At any rate, the renovation downstairs at the school is almost done. It's Friday and the workers have gone home. The school hasn't been this quiet for weeks. But it's only a brief respite. I'm told the upstairs will be renovated next. Again, why couldn't it have been done during the summer? Don't ask.
James Tressler was a reporter for the Times-Standard. His books, including "Conversations in Prague" and "The Trumpet Fisherman and Other Istanbul Sketches," are available at Amazon.com and Lulu.com. He lives in Istanbul.
---
SHARE →
---