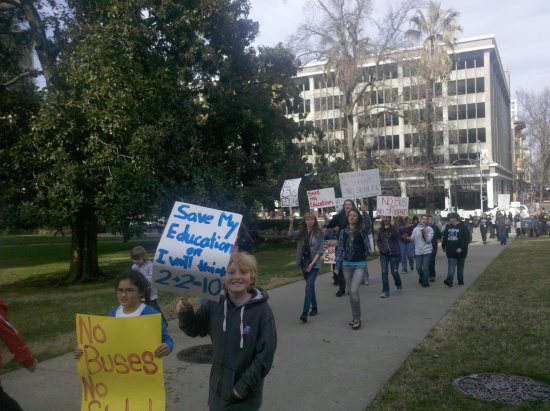 Photo by Becky Crossland
UPDATE:9:07 More photos these by Lisa Music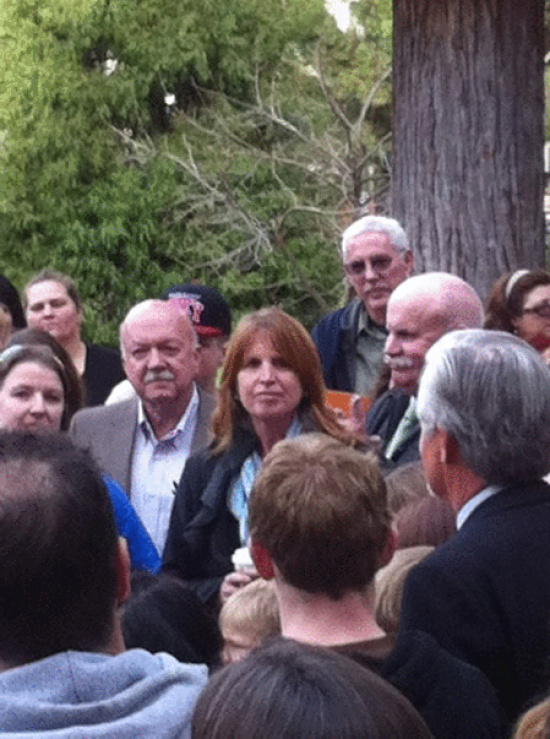 Local business owner and blogger Ernie Branscomb, Senator Noreen Evans, School board president Dennis O'Sullivan (back to the camera in a suit is Assemblyman Wes Chesbro)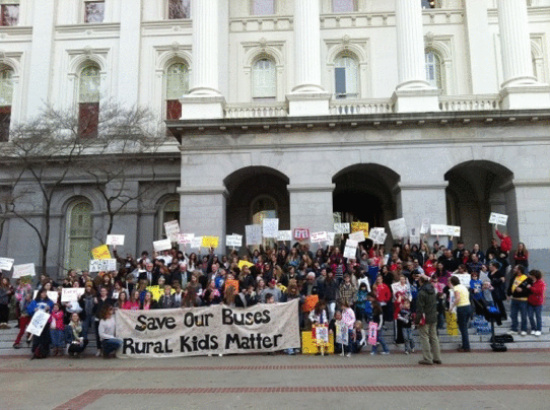 The group
UPDATE 8:37: More photos from Lisa Gribi.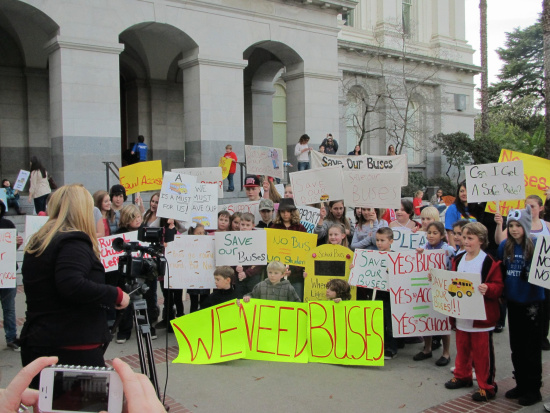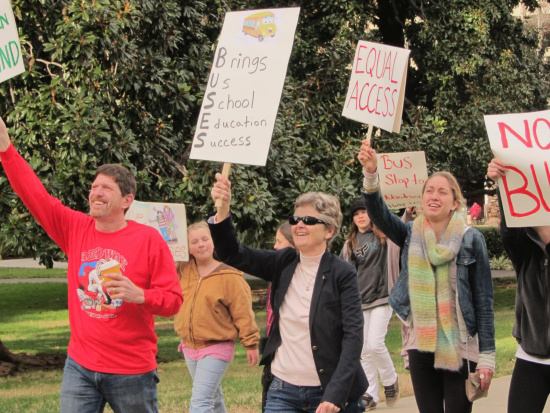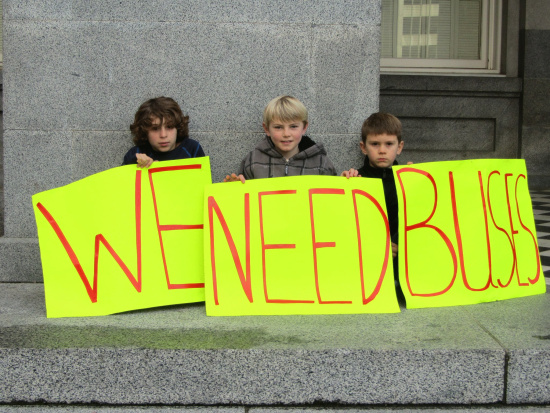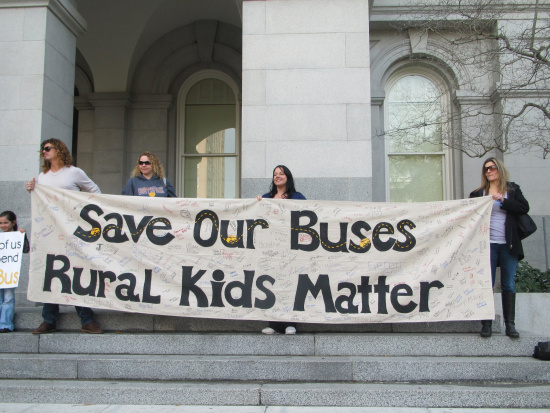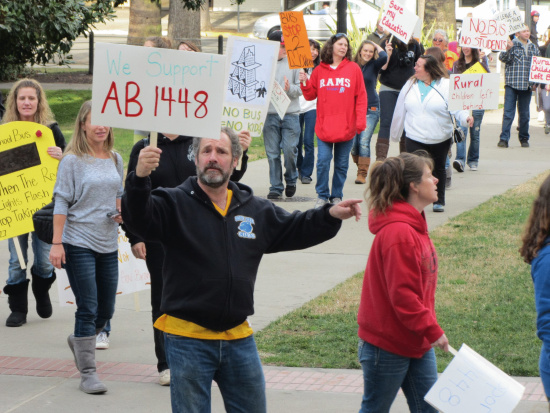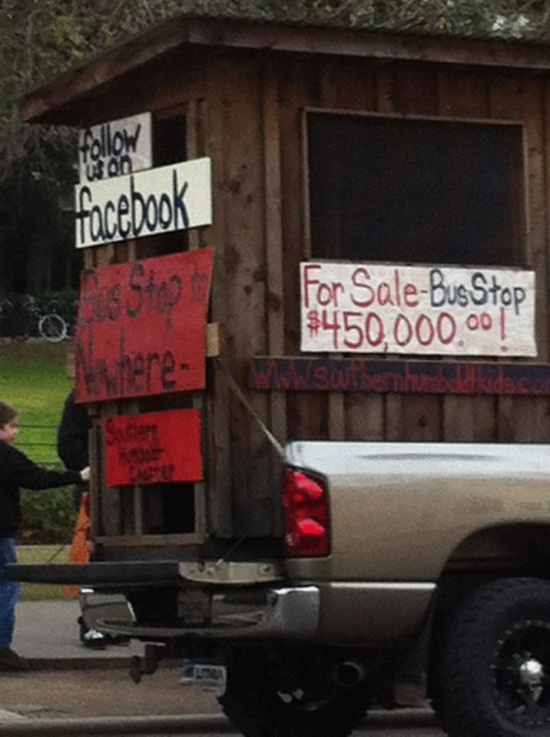 Above photo by Lisa Music
UPDATE 5:11:The Bus Stop is loaded up and headed back to Humboldt.
UPDATE 4:37:According to SHUSD Board President Dennis O'Sullivan, "Everybody is headed home…They [the lawmakers] were very, very impressed. They had never had such a large group of regular people—not lobbyists—before." He added that while "we didn't come home with a check," SB81 is getting a lot of support.
UPDATE 4:22: According to parent, Lisa Music, Senator Noreen Evans said she had never seen so many people from one community before. Chesbro assured the crowd that there was a bill on the table for next Tuesday backed by the Coalition for Education. It would spread the cuts out….Without schools, we won't have a community, Chesbro says.
UPDATE 3:55: Assemblymember Wes Chesbro meets with students.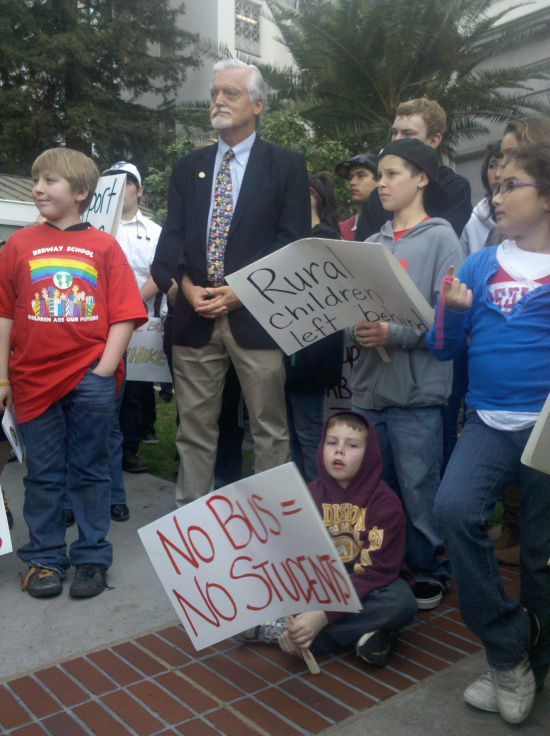 UPDATE 2:48: Chili Gribi delivering donated food to the kids. Diesel for the buses was reported to have been donated by Apex North.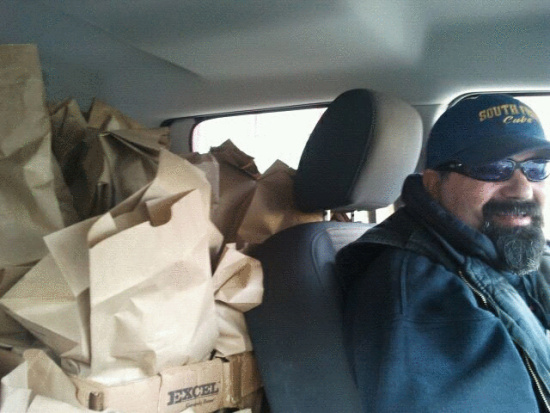 Photo by Lisa Gribi
UPDATE 2:34: KMUD Tweeting, "Sen. Evans says 700 people from So Hum are in Sac 2day on school bus cuts. She's impressed, and thinks other lawmakers are too. More at 6."
UPDATE 2:26: Sign says "You can't leave a child behind that was never picked up."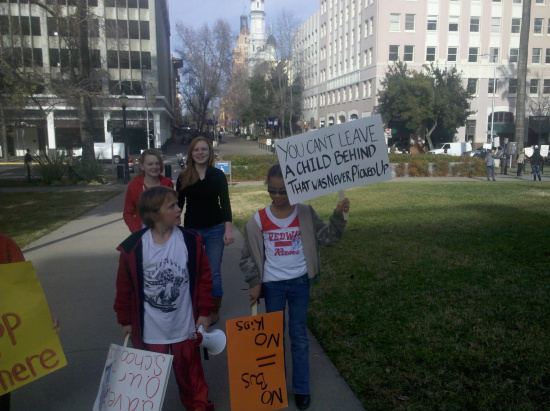 Photo by Becky Crossland
UPDATE 2:10: Parent Lisa Music says, "Right now we are just occupying the front steps while a student, teacher, parent, bus driver and principal meet with the legislators. Lots of kids here protesting, parents, aunts, uncles, grandparents and community members holding up signs shouting out our issues. Dylan [her son] has been running around singing, "The wheels on the bus go round and round, round and round, round and round, oops, not anymore because of Jerry Brown!"
—————————————————————————-
Acting Superintendent of Southern Humboldt Unified School District (SHUSD) Jim Stewart is calling, "Armageddon" will descend on the rural area. Fourteen transportation workers will be laid off and nearly 00 kids will be without school buses. While the District was expecting some cuts to ADA money (funds allotted to schools based on student attendance,) no one expected the complete dismantlement of transportation funding. Acting Superintendent Jim Stewart said at a recent meeting, "The impact on our district is outsized. It has just huge, tremendous, disproportional impact on us. ..$2 million is being removed from the economy of Humboldt Co. due to this trigger cut alone..$450,000 of that is from us. Almost 1/4 of the impact to Humboldt County is right here on our 650 kids…."
The community uproar appears to have had some effect. Today, Assemblymember Jared Hoffman (Candidate for Congress for our 2nd district) just "announced his co-authorship of Assembly Bill 1448…which restores home-to school transportation funding for California students."
As information comes in, I'll be updating this blog with photos and descriptions of what is occurring. Below is this morning's California Report story about our community and its response to the cuts.
According to Lisa Gribi, parent in SHUSD, there about 300 people at the protest chanting, "Save Our Buses" and "No Buses, No Kids." There is a "Save our Buses. Rural Kids Matter" signed by lots of folk. "Don't Bust Our Buses."
Ernie Branscomb, local businessman and blogger is down there, too. He said, "I'm holding up a sign and walking in circles "Rural Children Left Behind/ Support AB 1448."
UPDATE 2:00:Ernie Branscomb with sign.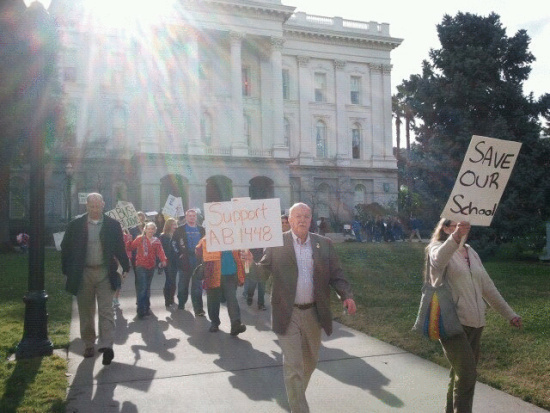 Photo by Lisa Gribi.
See more photos at Bus Stop to Nowhere.