Yesterday, a school bus stop in Southern Humboldt carried two pleas for attention. One of them proclaimed, "SoHum School Transportation Ends in 43 days: Next Stop, No Students." Parents and community members are pleading for help because, this last Tuesday, January 3rd, the board of Southern Humboldt Unified School District (SHUSD) voted to cease all school transportation services as of Friday, February 17th. Almost everyone agrees they had no choice. In December, automatic cuts almost completely halted funding for school transportation—a move which Dennis O'Sullivan, SHUSD's school board president feels harms rural schools disproportionately. A shortfall in revenue triggered the cuts to school transportation. Board member, Blake Lehman explained, "Basically, the board was put in a very difficult position. Because of contracts, we have to give employees 45 day notice." So, even while the board is scrambling to regain funding, it must give termination notices otherwise they would be legally obligated to continue paying bus drivers even if there was no money to pay for gas for the buses.
In spite of the vote, The Southern Humboldt community and the school board are struggling to find ways to keep the transportation going. At Tuesday's meeting held in the Redway Elementary gym, a standing room only crowd listened as speaker after speaker stepped to the microphone and spoke about how ending school transportation services would harm them and their community.
Jenny Early, a mother from Redway who was at the meeting, said that she is not normally politically active but that this was "one of the first meetings I've ever gone to. It will have a huge impact on our school system." Even though she lives near her son's school, she worries about what will happen if students have to drop out or move because getting to school is difficult. She calls it "the domino effect… less kids showing up, means less funding." And less funding means less services for the children who do get to school. Even people who aren't obviously affected, she said, will see people moving out of the area and property prices plummeting and other services disappearing as a result of this.
Read more below
Several who were at the meeting spoke about being extremely worried about the hardships faced by parents and employees. Estelle Fennel, Supervisor candidate for our district, said that one story that touched her was that of a "father from Whitethorn. I think he had four kids. He can't leave his job [to get his children to school.]" How would he support them, she asked. Several bus drivers who are some of the 14 employees scheduled to be laid off because of the cuts spoke about the hardship they faced. The bus driver's stories moved many in the audience. According to one person there, the woman in photo below is a bus driver who said she would not be back if she was laid off. She is a single mom who has no extra resources to wait out the situation and she will have to relocate so she can feed her family. The woman behind her is another bus driver who raised three girls that have four children in the schools now. Those children will be affected by the busing situation, too. She feels that she worked hard to raise children in this community and be an asset. Now, she feels that the system is failing her family.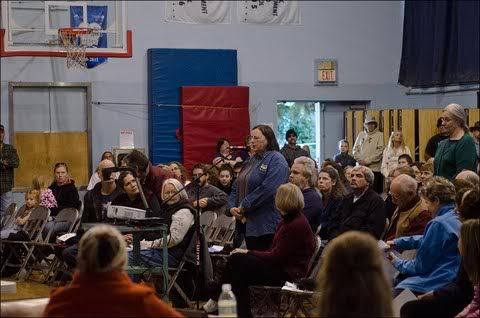 Fennel said, "that yellow school bus is as American as apple pie. It shows how we take care of our kids…It is all about equal access. People making those decisions don't live in these kinds of areas." She later went on to write on her webpage, "We cannot let our children become pawns in political brinksmanship being conducted at the State Capitol. If we lose transportation we will lose students. Then we will lose even more funding and we will spiral down to a failure of monumental proportions. All because lawmakers in Sacramento fail to understand or consider the consequences of their actions in the real world."
Board member Blake Lehman agreed, "90%of our kids ride the bus. This is frickin' ridiculous. How are we supposed to get our kids to school?"
Driving roughly 500 kids to school and from school every day is bound to cause accidents believes Diana Totten, a search and rescue volunteer in Southern Humboldt. "This could cause people to die!" she says. Accidents could result, she worries, from inexperienced teenagers driving and from more people on the roads. According to her, our bus drivers are trained to deal with curvy, mountain roads in dangerous weather conditions but young drivers will have difficulties in the same situation.
The National Highway Safety Administration claims that school buses are the safest form of transportation. According to its site,
Jackie Carlson, a retired teacher explains, " I've taught for well over 30 years…We've been under siege for a very long time now. We've been asked to do more and more for less and less… ." She thinks that the Governor's decision to stop funding school transportation may not be legal. She points out Robles-Wong vs California, a historic lawsuit, which states that
Because education serves as a major determinant of an individual's chances for economic and social success and asserts a unique influence on an individual's development … the state Supreme Court has held that education is a fundamental right of every child in California—a right that must be made available to all children on an equal basis.
Cutting transportation to rural areas where students live far from schools, unfairly harms those children, she believes. "If kids don't have access to school, then schools can't do what the state has mandated."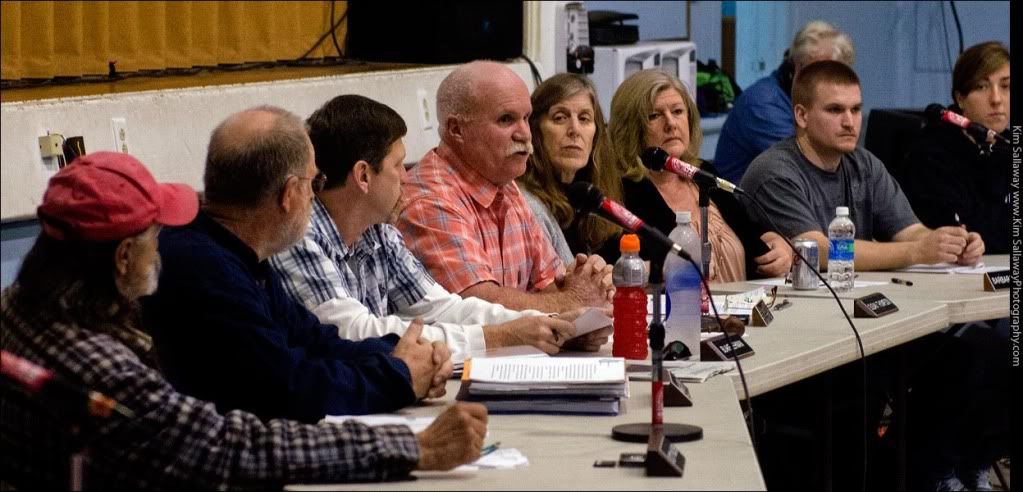 Dennis O'Sullivan, SHUSD Board President (pictured center above), says he wants "people to stay pissed…We've got to stay pissed off." He is hopeful that pressure put on state government will bring relief to the area. He said that he has seen people walking around Garberville with petitions. That makes him hopeful but he urges everyone to write to their representatives, too.
The Los Angeles Unified School District is filing a lawsuit claiming that as they are mandated to provide free busing to certain groups of children then the state must provide funding. "Rural districts don't have a lot of pull," says Dennis O'Sullivan, SHUSD Board President. "We're the little guys." He is hoping that Southern Humboldt can join with other school districts and be supported by the public in their fight to restore at least some of their funding. He is hoping for an outpouring of letters to their representatives.
Supervisor Clif Clendenen also feels hopeful that public support may help. He says, "The tremendous local turnout and effort is significant as well, and this is a great time to remind folks to get those letters, phone calls, and emails off to Gov. Brown, Sen. Noreen Evans, Assembly member Wesley Chesbro, and copies to local reps Zuretti Goosby (Evans), and John Woolley (Chesbro). I'm going to follow up with Dr. Eagles and track efforts/progress at the state level." He says that the Board of Supervisors agenda for this Tuesday includes a letter to the governor and state representatives.
Those who wish to send letters can go to Tally's place, a Humboldt Co. blog, which has a form letter as well as addresses for Brown, Chesbro, and Evans.
UPDATE: 1:01 P.M.: Bus Stop to Nowhere is a site devoted to the Southern Humboldt busing issue.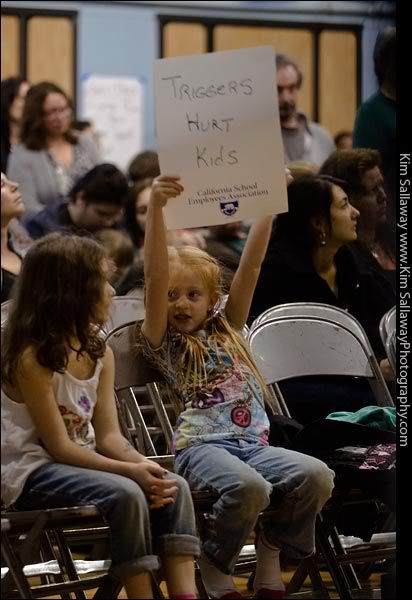 ____________________________________
Photos above all by Local Photographer Kim Sallaway (P.S. Click on this site to see a whole new archive of Humboldt Co. photos. The line of quails on the rail is an image that will stick with me, let alone the hummingbird etc.)
See more photos of the meeting at Estelle Fennel for Supervisor 2012's Facebook page.