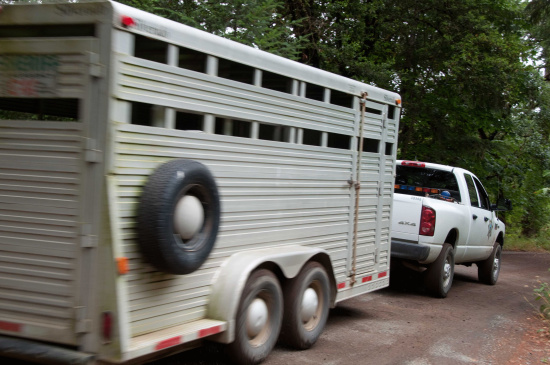 UPDATE 1:33 P.M.: Here is the press release (and boy, they don't want to tell us anything!):
"Special agents with U.S. Immigration and Customs Enforcement's (ICE) Homeland Security Investigations (HSI) in California and South Dakota, in cooperation with local police, are engaged in a law enforcement operation in Humbolt County, Calif. As the matter is considered an active, on-going investigation no further information is available for release. Future inquiries should be directed to the U.S. Attorney's Office for the District of South Dakota."
UPDATE 1:19 P.M.:According to the Public Information Officer, Shawn Neudauer, to whom I was directed at Homeland Security, this is "a multi-state operation." It originated in South Dakota. It appears to have something to do with Immigration as the phone number I was given is at an ICE office. They served a warrant yesterday, and two today. According to various reports, there is also an operation which may or may not be related near the Arcata city limits.
UPDATE 11:30 A.M.: The Humboldt Co. Sheriff's Public Information Officer has confirmed that his office is assisting—get this—-The Department of Homeland Security! We're working on contacting the Department. We'll update when we get more information.
UPDATE 10:53 A.M.: The DEA has confirmed that they were NOT involved.
UPDATE 10:36 A.M.:Residents in the Salmon Creek area were surprised to see approximately 10 law enforcement vehicles entering their community at around 8 A.M. this morning. The convey consisted of marked Humboldt Co. Sheriff vehicles, at least one vehicle that looked like a sheriff's car with the blue stripe but not with Humboldt Co. markings and at least one truck hauling a trailer.
The vehicles drove past the end of the county road up towards the Samuel's Loop Ranch. Before they reached the school, they turned down a driveway. Law enforcement remained there for a surprisingly short amount of time. Within about two hours, they left the area headed out of the community. Their vehicles looked empty.
Down Below is Flashearth's view of the area in question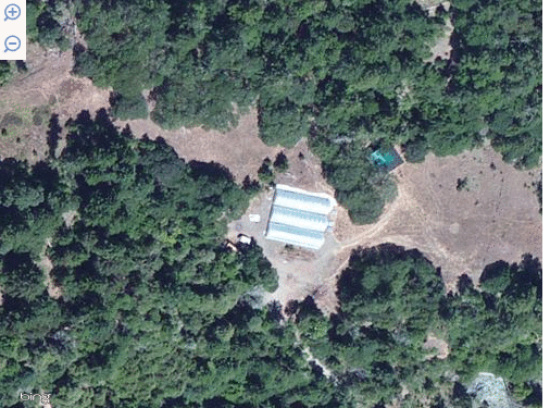 ————————————————————————————-
Several eye reports of Sheriff's and unmarked vehicles —"over a dozen, trailers, quads" heading into the Salmon Creek upper area on Thomas Ranch Rd.