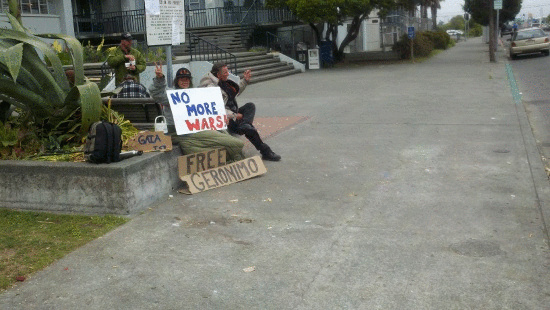 It's not quite clear yet which police agency it was, but early this morning one of them descended upon Occupy Eureka over the night and removed all the chairs, couches and related furniture that has graced the courthouse protest these last few months.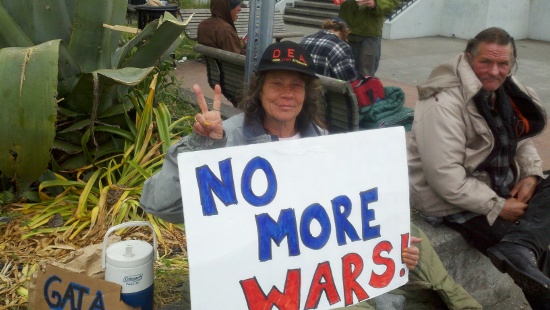 Protester Rebecca Stiles (pictured at right in her "DEA — Drink Every Afternoon" cap) said that police arrived at the Occupation at about 5 a.m. She said they taped off all the furniture with yellow crime scene tape, then, when a truck arrived, loaded it all up and drove it away. According to Stiles, no one was arrested.
She mentioned that officers told her that it had been determined that most of the sidewalk in front of the courthouse was Caltrans property. If this is the case, perhaps legal minds have finally resolved the sticky jurisdictional question that has accompanied the attempted crackdown on OE.
Stiles said this morning that the officer she spoke to told her that:
Four feet of the sidewalk, from the roadline inward, is Caltrans right-of-way.
The courthouse lawn and steps belong to the county.
That leaves a tiny little strip between Caltrans' property and the county's that is policed by the city of Eureka.
Curious, if true. Stiles, it should be noted, was in excellent spirits, despite the loss of comfortable seating.