A couple of weeks ago your Lost Coast Outpost published data from the California Department of Health which proved, conclusively, that Humboldt County is deadly. This occasioned a great deal of head-scratching and hand-wringing, and no small measure of Kübler-Rossian denial.
Well, you want to look at it another way? A Seattle research organization called the Institute for Health Metrics and Evaluation tracks worldwide life expectancy over time. Their United States numbers, it turns out, are broken out by county. Can you guess what they say?
That's right: Hellboldt County is mad for death. In 2009, our males had the fourth-worst life expectancy in the state, just ahead of Lake, Del Norte and Yuba counties. Humboldt County females fared comparatively worse – in the race to the grave, they placed in a three-way tie for first with the ladies of Kern County and ever-luckless Lake.
The boosters among us will say: Well, that's not so bad, then. Our men are hardier and presumably more virile than those of our neighbors to the north, and we can claim bragging rights over the folk who dwell on the poisonous shores of Clear Lake (in this respect, if no other).
Hold up, though! The most important metric tracked by the IHME shows Humboldt County is beyond a doubt the Grim Reaper's most favorite-est place to spend time in California. The institute, as I said above, tracks life expectancy over time. And that's where we're, uh … not so good.
In most places in California and the nation, life expectancy has been on a continuous climb. Between 1999 and 2009, men in California added 2.4 years to their lives. Women in California added 2.3 years. Not so in Humboldt County – which had the worst rate of increase in the state. A clear 58th out of 58. Our men added only four months to their lifespan over that decade, and our women had the distinction of being the only California sub-group, male or female, whose life expectancy actually dropped.
The headline of the report accompanying the IMHE data, which was published last month, warns that "Girls born in 2009 will live shorter lives than their mothers in hundreds of US counties." Humboldt County is one of those counties – the only such county in the state. [Actually, we aren't quite there yet — we'd have to be lower than we were in 1989, and we're not, quite — but we're the only county in California trending in that direction. — Ed.]
See, check out these little graphs, which compare Humboldt County with state and national averages: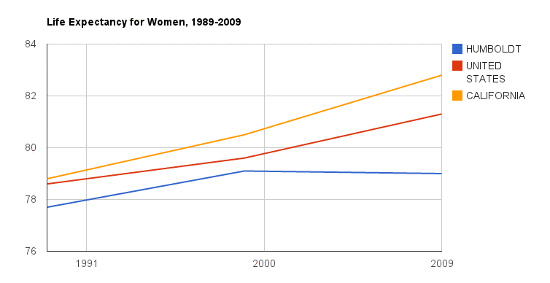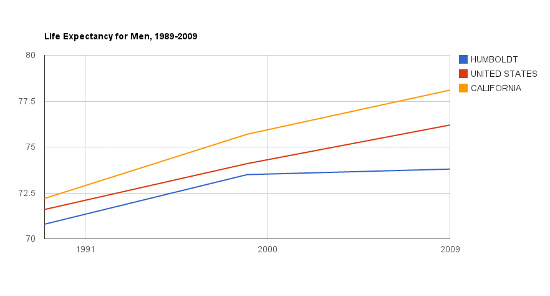 To repeat: The difference in those curves is worse in Humboldt County than they are anywhere in California.
Get an Excel spreadsheet of all counties in California here. Get a spreadsheet of all counties in the nation here. If you're looking for comfort, consider the fact that at least you don't live in the Deep South, where people just can't wait to check out.