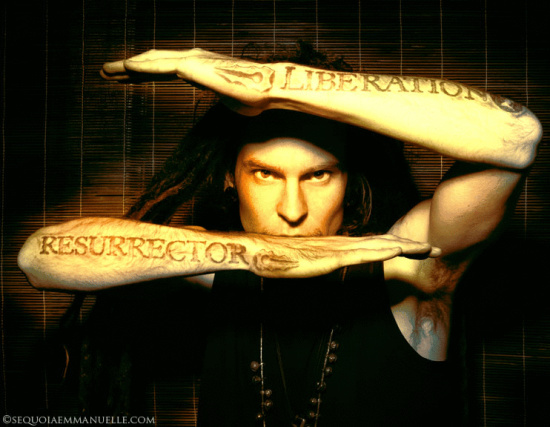 Heavyweight Dub Champion headlines Hempfest

Mateel Press Release:
Coming up on the weekend of November 9th, 10th and 11th, the Mateel Community Center will hold the 22nd Annual Humboldt Hempfest at the Mateel hall in Redway.

This a 3-day celebration of hemp and cannabis-related events, products and activities kicks off on Friday evening, November 9th, with Ngaio Bealum's Highlarious Hempfest Comedy Show" featuring comedians Bealum, Lidia Popovich, Rico da Great and the lovely ladies of the Bada Bling Troupe.

Ngaio Bealum, sometimes known as "the chocolate mountain of joy" has appeared at just about every Hempfest and cannabis themed event on the West Coast. Bealum, the former Editor and Publisher of West Coast Cannabis Magazine, says he's been entertaining stoners and non-stoners (but mostly stoners) all over the world for more than 20 years. The High Times Cannabis Cup in Amsterdam, the Seattle Hempfest, the Humboldt Harvest Fest, the Portland Hempstalk and the State of Jefferson Hemp Expo are but a handful of events where Ngaio's brand of fast paced yet laid back storytelling, combined with his 420 friendly style, never fails to delight the crowd. He has opened for Weird Al Mankovich, Dave Chappele, Outkast, Cee-lo Green, and The Black Eyed Peas, to name a few. This is his 5th time at the Mateel Center, and he says he's really, looking forward to it, because he "prefers outdoor over indoor."

Ngaio Bealum




Lydia Popovich is a San Francisco based comedian and blogger whose website "Hater Tuesday" founded in 2003, garners thousands of weekly visits from friends and family around the world. Popovich who was a featured act in Ed Rosenthal's "Wonders of Cannabis" can be seen performing on stages all over the Bay Area, including her favorites, Punchline and Rooster T Feathers. Popovich sites as "the best day of her life" as the day that Dave Grohl of the Foo Fighters touched her arm and said, "Hey, you're pretty funny."

In Sacramento Rico Da Great is a comedy legend. He is a regular headliner at the "Grown and Sexy" comedy series at The Touch of Class nightclub there. His sharp observations and keen understanding of human nature make him a comedy stand- out and welcome addition to the Hempfest comedy kick-off.

In addition to the "highlarious" comedy acts, the always lovely Bada Bling Burlesque ladies will be providing table service and selling their deliciously decadent cupcakes at the event that Friday. Fans of both their table service and cupcakes give Bada Bling Burlesque a resounding, "Yum yum!"

Main Event

Saturday, November 10th, the main event day of Humboldt Hempfest 2012 will feature a full day of music, dancing, vendors, great food and refreshments.

Headlining the entertainment will be Heavyweight Dub Champion, also known as HDC, featuring Resurrector, Sasha Rose, Dakini Star & Jeffrey Dante aka APOSTLE. This music and art collective, with their constantly rotating line-up, is rooted in electronic music but create their unique style by using real and acoustic instruments fused with synthetic and electronic elements. They describe their music as a "shamanistic wall of hip hop dubtronica."

Thicker Than Thieves; Markus James & The Wassonrai; Jade Steel & The Emerald Triangle Band; Arann Harris & The Farm Band; Sour Mash Hug Band; The Fabulous Resinaires; Teatro Pachuco; Shovelman; the belly dancing groups, Lakshmi's Daughters and Onyx Moon; Rockin Rubies; Mark Zachary
 and more TBA!

Hempfest Forum

On Sunday, day 3 of Hempfest, there will be a free and interactive Hemp Forum. Organized by the Southern Humboldt business, Cannabis College, the forum will include a panel discussion and audience Q & A period with celebrity guests, informed speakers, and law experts discussing hemp/ cannabis-related issues.

Stayed tuned for more information about Hempfest's exciting musical line-up as well as the guest speakers and topics to be discussed at the Hempfest Forum next week.

Don't miss the 22nd annual Humboldt Hempfest at the Mateel Community Center, on November 9th through the 11th. For more information call the Mateel at (707) 923-3368 or visit the website at www.mateel.org.