---
Tar Heroin-Packing Burglary Suspects Fail to Make Off With Rifle, Wii
---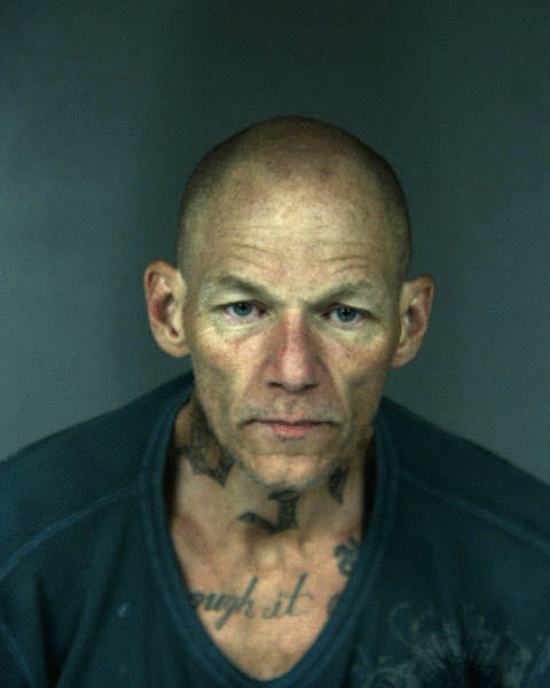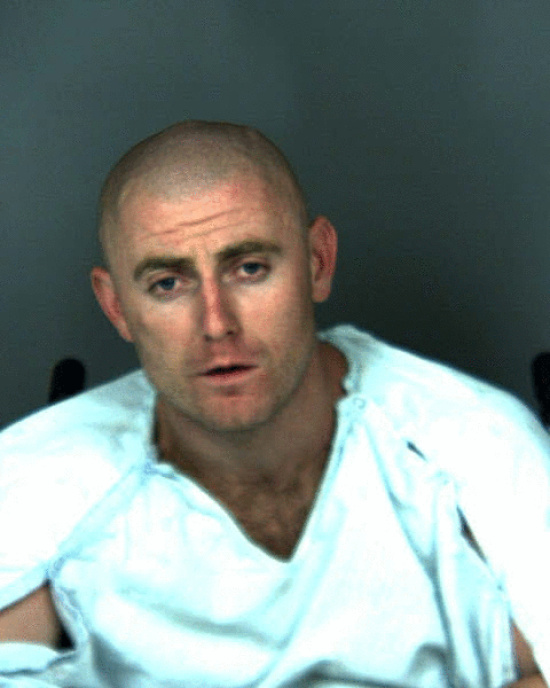 From the Eureka Police Department:
On 9/20/12, at about 8:23 AM, Eureka Police Department officers were dispatched to the report of an audible alarm at a residence on the 1100 block of Manzanita Street, Eureka. Witnesses in the neighborhood also reported seeing two adult male suspects jump a fence at the location and run southbound on M Street. Responding officers subsequently located signs of an attempted burglary at the Manzanita residence.

EPD Patrol and Problem Oriented Policing Unit officers began canvassing the area for the suspects based on the descriptions provided by witnesses. At about 9:05 AM, a plainclothes sergeant spotted the suspects on the 3500 block of 'O' Street. The suspects were walking two bicycles and carrying multiple bags.

When the sergeant attempted to contact the suspects, they fled east into the wooded area (Sequoia Park) abandoning their bicycles and bags. One of the suspects, later identified as Travis Lee Morgan (age 46 of Eureka), was immediately detained at gunpoint and taken into custody by officers. The second suspect, later identified as Stewart Michael Anderson (age 26 of Orange County), fled deeper into the park and initially eluded capture. A perimeter was quickly set up and an EPD police K-9 team was dispatched to the scene to start a search for Anderson.

When apprehended, Morgan was carrying a backpack filled with U.S. coins ($692.00 worth). His pockets were stuffed with miscellaneous jewelry, cash, and other suspected stolen items. Officers also located a laptop computer he dropped when he fled.

A short time later the resident of a house located on the 3600 block of 'O' Street drove by the scene. The resident identified the bicycles as belonging to his family. The victim left to check his residence. He returned a short time later and reported his home had been burglarized and numerous items were missing in addition to the bicycles.

Meanwhile, officers located another large duffle bag in the woods along Anderson's flight path. The bag contained a wallet and indicia identifying Anderson, clothing he was seen by witnesses wearing during the previous burglary attempt (he'd since changed his clothes), and more stolen property belonging to the 'O' Street victims. The victim and his wife subsequently identified numerous items that had been stolen from their home including the laptop computer, cash, jewelry, backpack and coins, a Nintendo Wii game console system and other assorted articles. Still missing was a 30-30 rifle.

A total of approximately $2,200.00 worth of stolen property was recovered and returned to the victims.

At approximately 9:56 AM, the K-9 team and other searching officers located Anderson hiding in the woods. Anderson was taken into custody without further incident. Due to injuries he sustained during his flight, Fire and medical personnel were dispatched to the scene. Anderson was transported to St. Joseph's Hospital for precautionary evaluation and treatment prior to booking.

Morgan was transported to the Humboldt County Correctional Facility where he was booked for burglary, resisting/delaying a peace officer, probation violation, and violation of his Post Release Community Supervision (PRCS). Morgan was on formal felony probation for reckless evading and on Post Release Community Supervision for possession of a controlled substance.

During the booking intake process, correctional officers located approximately 2 grams of tar heroin and 41 grams (over an ounce) of suspected hash concealed under Morgan's clothing in his buttocks area. Additional charges of possession of a controlled substance and possession of concentrated cannabis are expected to be added.

Upon being medically cleared, Anderson was transported to the Humboldt County Correctional Facility where he was booked for burglary, possession of stolen property, resisting/delaying a peace officer, and violation of his Post Release Community Supervision. Additionally, Anderson was arrested and booked on a felony warrant alleging possession of a controlled substance.

Anderson was on both Post Release Community Supervision and formal felony probation for identity theft/fraud. Anderson told officers he had his Post Release Community Supervision transferred from Orange County to Humboldt County around March of this year. Anderson admitted he had previously been arrested for violation of his PRCS following his arrival in Humboldt County. Anderson added he recently finished serving 45 days in jail for that violation. A check of Humboldt County Jail booking records confirmed an early August 2012 arrest.

Both Anderson and Morgan admitted to current drug use, and to committing the 'O' Street burglary.

During a post-arrest interview, Anderson also told investigators he'd hidden the victims' missing 30-30 rifle outside of the residence on their property. The rifle was subsequently located by the victims. An additional charge of illegal possession of a firearm by a convicted felon is expected to be added to Anderson's list of charges.

Both Morgan and Anderson were initially being held on $50,000.00 bail. However, the Humboldt County Probation Department, which manages the PRCS program, was contacted and probation/PRCS violation holds are pending on both suspects.

The Eureka Police Department would also like to thank those citizens who aided in the suspects' apprehension by quickly and accurately providing their descriptions and direction of travel to officers.
---
SHARE →
---